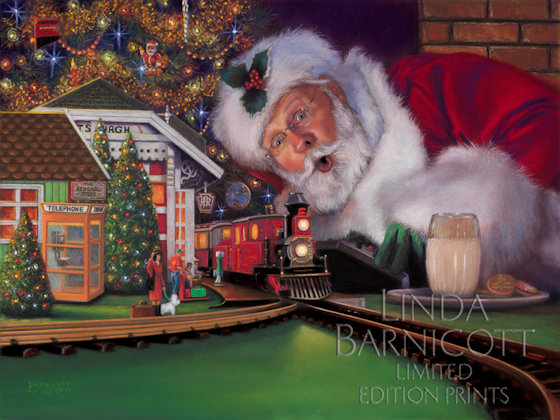 This is the official release date of my newest painting, "All Aboard with Santa," the third limited-edition giclee print in my five-year "Jolly Old Elf" series.
I'm especially proud of this painting! The whole time I was creating it, I was musing over the backstory in my head.
"Delivering toys to all the children of the world can get very tiring at times, and sometimes even Santa needs a break. As he walks around the house, he smiles as he spots milk and cookies and an old train set. He can't resist! The next thing you know, the Jolly Old Elf himself is laying flat on his stomach next to the train tracks."
"Just as any child will do, he bends over so that his eye is over the train, creating a whole different world at that level. Santa cranks up the power a little. The train lights up and comes to life, slowly sparking and traveling down the track. Clickity-clack, the train circles round the platform and heads back to the curve. As the train roars past Santa and heads to the station, once more Ol' St Nick just CAN'T resist: "CHOO CHOO! All aboard!"
"All Aboard with Santa," is the third of five paintings in the series, each one with a holiday theme starring Santa. There's still time to collect them all! Click Here to see the whole collection.
Meanwhile, I'm getting an early start on Christmas, appearing at Wendall August Forge Flagship Store's Christmas in July event. Come on and see me on Saturday, July 22nd between 11 AM and 3 PM. I'll have plenty of prints with me for sale – hot off the presses! CLICK HERE to view my Calendar of Events and find out more about this and other upcoming events.
Wendell August Forge has released two new ornaments from my Santa series. I absolutely love my "Making Magic in Santa's Workshop" handmade aluminum ornament. The detail is incredible. And "Santa's Joyride" looks great, too! They're now up on my website if you would like to pre-order them for Christmas in July. CLICK HERE to check them out.
I'll also be hanging out with a special guest that day. Santa is making a rare off-season visit in honor of Christmas in July. So join me, take a break from the summer sun, and even get a selfie with The Man Himself. Because as the Jolly Old Elf says…
"You're never too old to get a picture with Santa!"
Make sure you are the first to know about all of my news, appearances and any "special deals" I am offering to my subscribers, by taking the time to sign up for my weekly newsletters now. CLICK HERE to sign up. You will also receive a FREE slideshow showing the step-by-step development of my painting, "Celebrating Time and Tradition at Macy's".