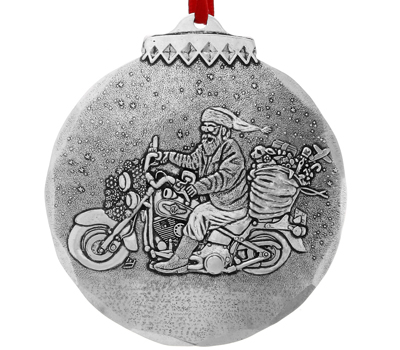 Looks like another hot and humid weekend ahead, but I'll be cooling off at Wendell August Forge on Saturday July 22nd at their exciting Christmas in July celebration. You can find me, as usual, hanging out with my homeboy Santa, and we'll be ho-ho-ho-ing it up from 11 AM to 3 PM. CLICK HERE to view my Calendar of Events and find out more about this and other upcoming events.
Come see my new ornaments in person, and I will sign and personalize them for you. You can even have free pictures taken with Santa. (Idea – a family photo with Santa would look great on your Christmas cards this year!)
Speaking of Christmas, I want to tell you about a wonderful experience I had at the Pittsburgh Night Market last Saturday.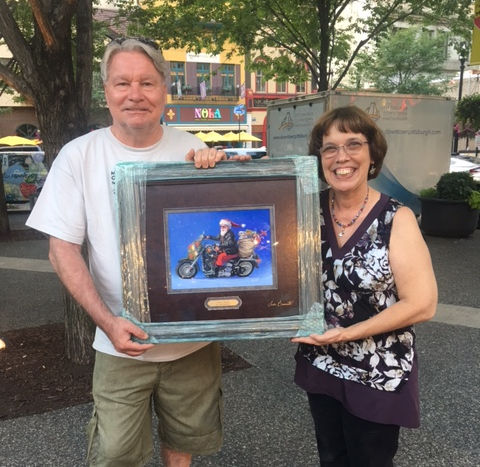 David, one of my most devoted art collectors, made a special trip up to Pittsburgh that evening just to see the original of "Santa's Joyride." David has had a long successful career in law enforcement, and he's had some pretty interesting jobs over the years. David rides an old police Harley, and he comes from a long line of Harley enthusiasts. So you can imagine how "Santa's Joyride." captured his imagination!
The painting really spoke to him. He loved how the framing was so perfect for the painting, from the tread on the wood, to the leather mat, to one of the mats looking like the chrome on the bike.
His favorite part, however, was the backstory of the little puppy dog hitching a ride in Santa's toy bag. The real puppy was just riding home with his new owner in the front seat of the car, and with the air conditioner blowing in his face, he had exactly the look I was going for!
I had teased the puppy's owner that I was going to steal his dog… but only in a painterly way, of course! When I told David that his name was Michael, he told me St. Michael is the patron saint of police officers. How perfect!
I'm always emotional when one of my beloved originals finds a happy home, and "Santa's Joyride." has found the perfect home with a kind and loving man. I couldn't be happier!
Though the original has been spoken for, of course I still have plenty of "Santa's Joyride." prints (as well as the entire Jolly Old Elf series prints and gifts) available for the rest of the world. I hope you'll come meet me at Wendell August Forge on Saturday to enjoy a little Christmas spirit in the middle of the long, hot summer!
Make sure you are the first to know about all of my news, appearances and any "special deals" I am offering to my subscribers, by taking the time to sign up for my weekly newsletters now. CLICK HERE to sign up. You will also receive a FREE slideshow showing the step-by-step development of my painting, "Celebrating Time and Tradition at Macy's".