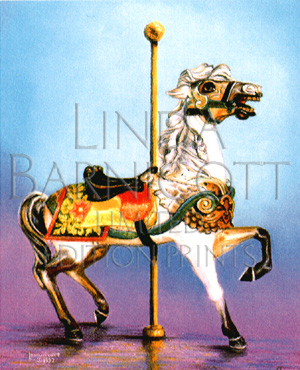 On Sunday, our family visited Kennywood for the first time in three years. It's hard to believe it had been that long. The park used to be a big part of our summer; in fact, I was a vendor at their summer festivals for 18 consecutive years.
But this time we were there strictly for the fun of it! We brought our granddaughter for her first Kennywood experience, and like any true Pittsburgh kid, she loved it! She never even took a nap – she was fascinated by everything going on around her. She laughed and smiled all day, and we all had a blast.
Our day at Kennywood reminded me of another time long ago (way back in 1996!) when I was a vendor at their Grand Victorian Festival. I even got to play dress-up in a turn-of-the-century costume!
I had painted "Ride with Me on the Carousel" the year before, and the park had asked me to work on a new painting during the festival. As I had learned so much about the Carousel, I thought it would be fun to paint the beautiful Lead Horse who started the carousel circle. His name was Pegasus, and he was the only horse on the carousel who had a face on his breast plate.
Throughout the festival, people stopped to watch me paint as Pegasus took shape on my pastel paper. I paid special attention to his fiery eyes, and even though he was made of wood, I felt like I was bringing him to life. I added a blue background to the piece to represent the perfect summer weather we were having while I painted him.
After the festival had ended, I took the painting to show it to Tony Sacramento at the nursing home where he was living at that time. In case you don't remember, Tony was the ticket master for the carousel for 60 years and was such a beloved ambassador for the park that he was dubbed "Mr. Kennywood." He was always very kind to me.
When I went to see him that summer, Tony had had several strokes and was unable to speak. But when he saw Pegasus, he gave me the biggest smile and two thumbs up! While I was visiting him, I noticed that hanging on his mirror was the small postcard of my carousel painting that I had given him the year before. It tugged at my heart to know that it was one of the few treasured possessions he chose to keep with him.
One of my collectors loved the painting and bought the original. After that, I painted Pegasus several times and sold every one. At the time, I was not yet publishing my own work, but I felt that I needed to print this piece so that others could have one too. Thus, "The Spirited Pegasus" became my first self-published print and launched Linda Barnicott Publishing, a new phase in my career.
You can find "The Spirited Pegasus" on my website in print, note cards and magnets. I've been blessed to sell them to many carousel enthusiasts over the years.
As always, summertime is a busy time for me, with a lot of outdoor shows. This week I'll be in Market Square for the Pittsburgh Night Market on Saturday, July 8th, and 15th from 5 to 10 pm. I will have lots of artwork for you to see – so join me there! CLICK HERE to view my Calendar of Events and find out more about this and other upcoming events.
Make sure you are the first to know about all of my news, appearances and any "special deals" I am offering to my subscribers, by taking the time to sign up for my weekly newsletters now. CLICK HERE to sign up. You will also receive a FREE slideshow showing the step-by-step development of my painting, "Celebrating Time and Tradition at Macy's".