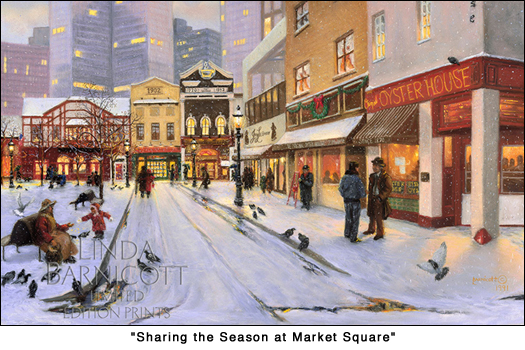 I'm in Virginia this week for a little well-deserved rest and relaxation after our big move. Though I'm not officially "working" this week, I'd like to share with you some behind-the-scenes stories about one of my favorite Pittsburgh paintings.
Back in 1991, I spent a lot of time developing my painting "Sharing the Season at Market Square." I remember going downtown on a cold, wintry Sunday morning to see freshly fallen snow in the square. My new painting was going to feature the Oyster House, Nicholas Tea and the 1902 building. When I arrived there it was totally devoid of activity except for a woman feeding the pigeons… not just a few birds, but what seemed like thousands of birds swirling all around her, competing for a taste of the delicious bread. I was so inspired by this scene that as soon as I returned home, I put Disney's Mary Poppins into the VCR and sketched the Pigeon Lady from the song, "Feed the Birds." One of our church friends posed for me as the Pigeon Lady, and beside her in the painting, my daughter Brittany appeared (first time ever in one of Mom's paintings!) as a little girl helping her feed the birds.
If you look closely, you'll also see my husband Tom conversing outside of the Oyster House with another gentleman – the husband of my Pigeon Lady model.
Another interesting fact about this painting is that I exercised creative license and actually removed an entire city block between Jenny Lee bakery and the 1902 Building so that the end of the square could be seen better. No one else has ever commented on the liberties I took with Market Square's architecture except one man – the man who owned the building that I "edited out" of the painting! In fact, he told me with a smile, "I would have bought the print if my building was in it."
Last month when I was exhibiting at the Westmoreland County Arts and Heritage Festival, I heard another story about this painting that I'm excited to share with you. What surprised me about it is how my painting affected so many people and became a part of their story.
Many years ago, there was a group of gentlemen, very close friends, who were fraternity brothers at Tau Kappa Epsilon. One of the brothers was drafted, and when he returned home safely, they all went down to the Oyster House in Market Square to celebrate. Every St. Patrick's Day since then, they have continued that tradition. When my painting was released, each of the brothers bought one, and they even named a person in the painting after each one of them in their group.
It was so much fun for me to hear that my painting took on such a special meaning for them. It brings me great joy to hear the stories that my paintings inspire… over the years, many people have told me that a person in my painting looks just like their Uncle Joe or Aunt Jean. But this is the first time I've heard of an entire story created around one of my paintings. (Thank you so much, Tom and Roberta, for sharing this with me!)
To make sure you always receive the latest information about my new paintings or about special offers, please take the time to sign up for my weekly newsletters. CLICK HERE to become a subscriber. When you sign up you will also receive a FREE slideshow showing the step-by-step development of my painting, "Celebrating Time and Tradition at Macy's".