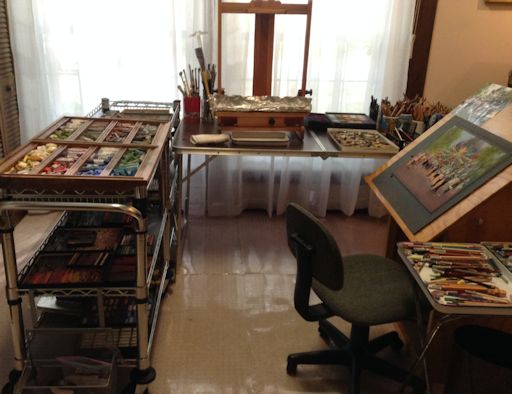 Since I last wrote to you, I've been having an extremely busy week. Orders for my latest Kennywood print, "Showtime By Kennywood's Paratrooper," have been coming in daily. In fact, I'm delighted to say that about half of my artist-enhanced giclees of this print have already been sold. There are only 25 in all, so if this is a piece you'd like to own, please don't wait. The regular giclee edition of 125 prints is also selling well. Click Here to purchase your print today!
Now that our move is behind us, I'm spending a lot of time in my new studio. You can see in the photo above where the art actually happens in my new space. On the right, you can see the desk that was made for me by my father. It was supposed to be my "over 40" desk! When I was 16, he built me this desk with a cabinet underneath where I could store my materials. However, as I got older, I found that I didn't need the storage space as much as I needed the bottom to be open so I could fit my legs under the desk and avoid a lot of back pain! I cherish this desk and have created many paintings on it over the years.
But the big news this week is that I have a new work in progress – a new Pittsburgh subject! And yes, you are the first to see it. I usually don't make my art public at this stage, but my subscribers get special privileges! Here's where I am so far: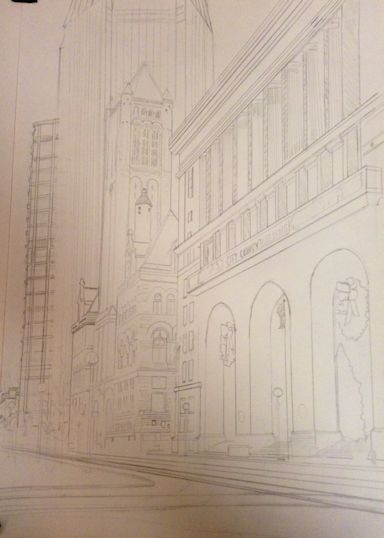 When I was inspired many years ago to paint this part of Grant Street, I created "Holiday Season on Grant Street," showcasing the beautiful new creche, a replica of the one at the Vatican. Because the County Courthouse is celebrating its 125th anniversary this year, I thought it would be appropriate to paint this scene that's been lurking in my memory for so long.
When I created this new painting, I tried to rekindle the Holiday Season of 1984 in my imagination, remembering walking the bustling downtown streets and admiring the beautiful decorations. In my mind, I'm on Grant Street, taking in the majestic tree and sparkling wreaths on the City County Building. Maybe I'll even hop a streetcar and head up to the U.S. Steel building to see their huge spectacular tree created from as many as 100 individual trees… yet another of Pittsburgh's wonderful holiday traditions.
I am actually behind schedule on painting this piece due to the move, so maybe I'll bring it on vacation with me and finish it next week as Tom and I travel to Williamsburg, Virginia. I may have to set aside that novel I'm trying to finish!
To make sure you always receive the latest information about my new paintings, please take the time to sign up for my weekly newsletters. CLICK HERE to become a subscriber. When you sign up you will also receive a FREE slideshow showing the step-by-step development of my painting, "Celebrating Time and Tradition at Macy's".