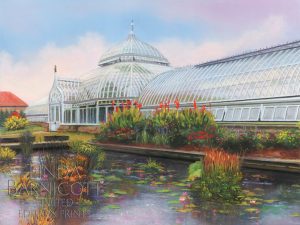 From the time I was just a new arrival in Pittsburgh as a young bride and now as a grandmother, one of my favorite places to visit around Easter and Mother's Day has always been Phipps Conservatory.
Tom and I had many romantic dates there, and sometimes we would go with friends. Then later when our children came along we would bring them, too, and introduce them to the beauty of the flowers. There's just something about flowers that makes your heart sing no matter what your age.
Many years ago, long before the remodel of the entrance, I used to dream of painting Phipps one day. At that time, my favorite spot was the side facing Schenley Park. There was a lovely pond near the side entrance, and it made a perfect composition with the beautiful 19th century building in the background. I took some photos, thinking "Someday I will paint this view." Almost 15 years later, I finally did – and I called it, "The Oasis of Beauty at Phipps."
At least that's the official title – actually, with the Impressionist style of the painting (and especially the water lilies on the pond), I think of it as "My Monet." I had a lot of fun painting it, and it's always been one of my favorites. Because I love it so much, I've recreated the image in many forms…
"The Oasis of Beauty at Phipps" is available as a key chain, an ornament, coasters, mint trays, and sandwich trays, as well as the 8 x 10 print and the full-sized print itself. It's the perfect painting for an unforgettable Mother's Day gift!
Everything is available on my website except the 8 x 10 print, which you can order by email (linda@lindabarnicott.com) or just pick up the phone (1-888-748-8278).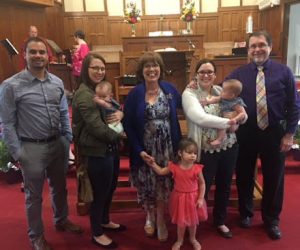 I hope you had a wonderful Easter. I loved celebrating the holiday with my little family. After we all attended church together, we drove over to Aria's house, where there was an Easter basket full of little gifts waiting for her.
My granddaughter, (wearing a 1980s sweatshirt over her dress because Grandma just had to do it) walked through the door and in her loudest voice exclaimed, "Oh! Presents for me!" I'll never forget the look on her face and how excited she was.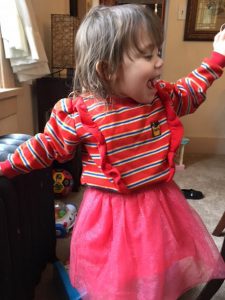 Memories that are made with family are the ones that will last a lifetime. Let me know if I can help you make this Mother's Day special with a gift of "The Oasis of Beauty at Phipps," or any of my other art or gifts.