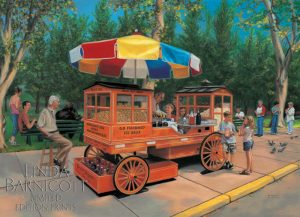 Back when I was painting my Kennywood series, I would often see my friend Jim when I passed through the Group Sales office. For two years, every time I walked in, he never failed to look up from his desk and tell me the same thing every single time… that there was a Pittsburgh landmark that I had so far neglected to paint.
He was referring to Gus and YiaYia's ice-ball and treats cart in West Park, a beloved North Side institution that has been delighting people for decades. And every time, I would say, "I will… someday."
I suppose he realized that I needed a push and maybe bit of inspiration, because one day I received a very thick packet in the mail. Inside I found a ton of photos of Gus and YiaYia and that legendary ice-ball cart.
Thanks to Jim, I knew immediately that it was time to paint that piece! I bundled my young girls into the car and headed for the North Side. I was nervous about meeting Gus and asking if I could paint him, but it turns out my fears were groundless. He is truly an angel on Earth, one of the kindest, most authentic people I've ever met.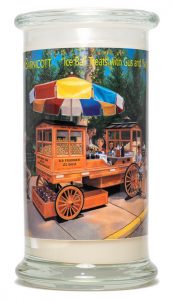 As a matter of fact, he wouldn't let me leave until the girls and I had ice balls, and he had loaded us up with popcorn and peanuts. When we said goodbye, he looked at me and asked, "Can I have a hug?" Despite juggling an armload of treats, I smiled and said "Sure!"… and somehow we managed.
I'll bet many of you have fond memories of when you first met Gus and Yia Yia or had your first ice ball in the park. It's a North Side tradition! As always, if you have a favorite story about Gus and Yia Yia's, I'm all ears.
Mother's Day is close at hand, and Father's Day is coming up soon, not to mention graduations and other events. I can't think of a better way to bring celebrate warm summer memories than with a nostalgic "visit" to Gus and YiaYia's ice-ball cart.