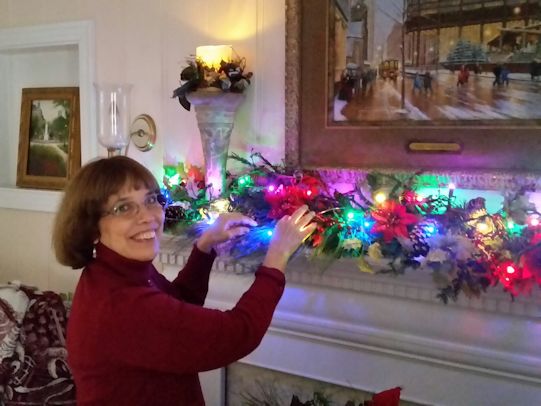 It may just be a week or two after Halloween, but Costco and Target aren't the only ones who already have their holiday decorations up! Because of the way my business operates, I have to get a jump start on the holiday season in early November, or it doesn't get done! Since I've been participating in the Holiday Market show in Market Square for the last several years, I don't get a day off from mid-November until Christmas Eve… that's 32 consecutive days without a break. If I don't get my home decorated for the holiday season before then, it might not happen at all!
So for this particular artist, if I don't stay far ahead of the holiday curve, I'm going to be left behind in a snowdrift. Until this year, I used to frantically try to catch up in the late evenings and early mornings… with disappointing results. My decorating suffers, and I'm too tired to enjoy the process.
This year, I'm trying something different. Though of course Thanksgiving is very meaningful and special to me, reminding me of all the blessings in my life, I jumped the gun and decked my halls a little early this year. I want to be able to enjoy that Christmas beauty that I love so much in my home and be reminded every day how special Christmas is to my family.
Not only am I already in the Christmas spirit in my home, but I've also planned an exciting new look this year for my Chalet downtown at the Holiday Market. I'm collecting new and different little items to sell alongside my paintings, and I hope you'll be excited, too! There will even be exclusive specials that will be offered only to my loyal subscribers during this Holiday season.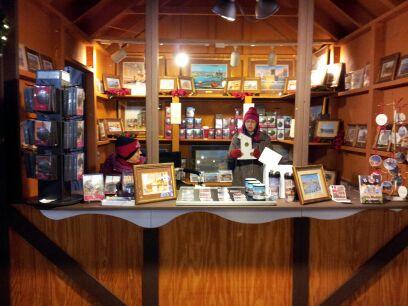 Though the opening of the Market Square Chalets is still about a week away, there is a ton of preparation that must get done before the 20th. And I still have other shows in the meantime…
~ I'm appearing on Saturday, November 14th from 9 a.m. to 3 p.m. at Bethel Presbyterian Church in Bethel Park to help celebrate their 42nd annual Holiday-A-Fair. (I thought it would be fun – and make life a little easier for me! – to stay close to home for a change!).
~ Can't get to the South Hills? How about Sewickley? My daughter Brittany will be representing me at the Unique Boutique on Saturday, November 14th, from 10 a.m. to 4 p.m., located at the Edgeworth Club at 511 East Drive, Sewickley. Proceeds benefit the Heritage Valley Sewickley Hospital. (If you buy any art there that you would like to have me sign, you can bring it to my Chalet in Market Square anytime between November 20th and December 23rd.)
In this upcoming holiday season, I'm looking forward to sharing my art with you and the people who are special to you. Check out my "Calendar of Events" to find out more details about where I will be this busy holiday season.
I'll have some of my new catalogs at each show. Come say hello and pick one up! (I'll have a limited number with me, so catalogs will be given on a first-come, first-served basis.)
P.S. – Don't forget to order your "Shhhh!" Christmas Cards available in the Note Cards for Sale section of this site. The message inside reads "It is no secret you will have a Magical Christmas!" And there's a sweet story on the back of every card! The cards are 7″ x 5," packaged in boxes of eight for $24.00. Quantities are limited and they are selling fast so order yours today!
Make sure you are the first to know about all of my news, appearances and any "special deals" I am offering to my subscribers, by taking the time to sign up for my weekly newsletters now. CLICK HERE to sign up. You will also receive a FREE slideshow showing the step-by-step development of my painting, "Celebrating Time and Tradition at Macy's".