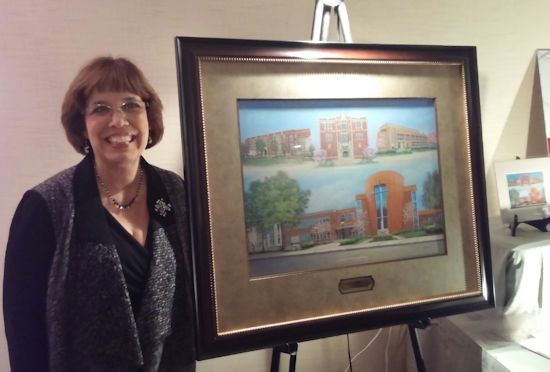 Last Thursday night, I had the honor of attending the Oakland Catholic High School Gala at the Westin Hotel in downtown Pittsburgh.
If you remember, in the spring of this year, I was approached by their board to create a painting that would honor each of the schools that joined together to become Oakland Catholic – Our Lady of Mercy Academy, Sacred Heart High School, and St. Paul Cathedral High School, with Oakland Catholic itself as the foundation.
Back when the dogwoods bloomed, I visited each of the former schools to take supporting reference photos. Love and pride was evident in the voices of the people I spoke with there as they told me each school's story. It was my task to bring their vision to life in the painting, honoring these schools and celebrating their legacy as they move into the future as Oakland Catholic. Their last words before I left that day were "We're counting on you!" (No pressure!)
Finally, after months of going over each and every detail and making sure everything was exactly right, I was humbled to experience the joy the painting brought to all the gala attendees. As Tom and I entered the foyer, filled with people and bustling with activity, the ladies who worked alongside me on the project welcomed us and showed us where the original was making its public debut.
The school was selling note cards and matted prints of the painting all night. I told them I had brought my pen in case anyone would like to have their purchase personalized, and I could be found at Table #20. I have to tell you, it was the best feeling in the world when folks approached my table to have their newly purchased art signed, timidly apologizing for interrupting my dinner! Tom (as usual) was his charming self, but in the end, we felt like we received far more than we gave.
Once again, this has been another week full of activity as I've been preparing for three public appearances on the weekend:
~ You'll find me at the "All That Glitters" Tinsel Time Charity Luncheon at the Hilton Garden Inn at Southpointe (Canonsburg) from 9:30 to 3pm on Friday, November 6th.
~ Immediately after that, I'll leave there and set up for the next day, Saturday, November 7th, at "A Christmas Affair" at John McMillan Presbyterian Church, 875 Clifton Rd. (in my backyard now!) Bethel Park from 9 to 3pm. You can find me in Room 9-11.
~ Then on Sunday, November 8th, I'll return to the Old Allegheny Shoppe's Christmas Holiday Show (their 40th year!) to sign my work from 12 noon to 4 pm. I spent all day yesterday setting up for their very busy weekend. I've actually lost track of how many years I've been participating in this show!
If you're out and about this weekend, I'd love for you to stop by and say hello! And if you need something for your home or a gift of art for the upcoming holiday season, I will be happy to personalize it.
I'll have some of my new catalogs at each show. Come say hello and pick one up! (I'll have a limited number with me, so catalogs will be given on a first-come, first-served basis.)
P.S. – Don't forget to order your "Shhhh!" Christmas Cards available in the Note Cards for Sale section of this site. The message inside reads "It is no secret you will have a Magical Christmas!" And there's a sweet story on the back of every card! The cards are 7″ x 5," packaged in boxes of eight for $24.00. Quantities are limited and they are selling fast so order yours today!
Make sure you are the first to know about all of my news, appearances and any "special deals" I am offering to my subscribers, by taking the time to sign up for my weekly newsletters now. CLICK HERE to sign up. You will also receive a FREE slideshow showing the step-by-step development of my painting, "Celebrating Time and Tradition at Macy's".