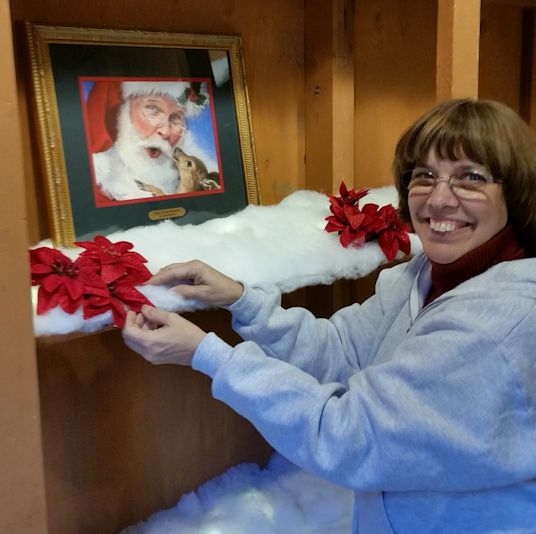 I'm taking a break to write to you now that I've just finished setting up my Holiday Market Chalet down in Market Square! Tom took this photo of me decking the walls earlier this week. Not only did we have to decorate, but we've also had to stock up on inventory for the coming 32 days!
If you've been to the Holiday Market in Market Square in Downtown, Pittsburgh in the past two years, you would have found me on the end near the walkway that goes to the PPG Plaza skating rink. This year, I'll be one chalet over and a little bit closer to the stage area.
Keep your fingers crossed for nice weather for the Holiday Market this year! If you remember, a couple years ago we had an unseasonably cold late November/early December, and I thought we would freeze to death! Let's hope the beautiful warm weather we've been having stays relatively good – at least not extra cold this time! It will make your Market experience a whole lot nicer, especially if you're bringing your little ones.
Speaking of little ones, don't forget to visit with our Santa (featured in my prints and ornaments) while you're here! Because if you have a picture of your child or grandchild on his lap, and you have one of my prints of him hanging on your wall or one of my ornaments on your Christmas tree, doesn't that by default make him the REAL Santa?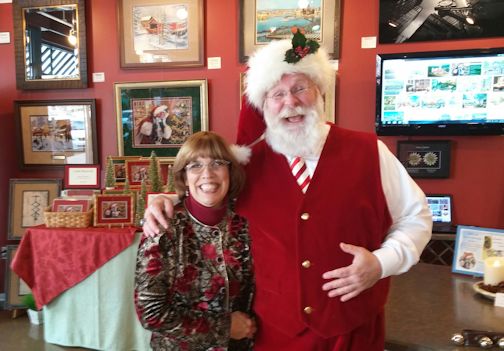 (Scroll down to the P.S. below for Santa's scheduled Market Square visits through Thanksgiving Weekend.)
Because Friday kicks off Light-Up Night weekend, and it's the first weekend of the show, I'm really in the holiday mood! I hope you will visit me this weekend and get a jump on your holiday shopping with art from Linda Barnicott Prints and Gifts!
Wishing you a festive Light-Up Night and a Happy Thanksgiving!
P.S. – Here is Santa's Holiday Market schedule through Thanksgiving Weekend (when he's not back at the North Pole supervising, of course!)…
Friday, Nov 20 – 5:30 to 9 pm (Light-Up Night)
Saturday, Nov 21 – 11 am to 4 pm
Sunday, Nov 22 – 12 noon to 6 pm
Monday, Nov 23 – 12 noon to 3 pm
Tuesday, Nov 24 – 12 noon to 3 pm
Wednesday, Nov 25 – 4 to 7 pm
Thursday, Nov 26 – Santa gets a day off – Thanksgiving Dinner at the North Pole with Mrs. Claus
Friday, Nov 27 – 12 noon to 3 pm, 4 to 7 pm
Saturday, Nov 28 – 4 to 8pm
P.S.S. – Don't forget to order your "Shhhh!" Christmas Cards available in the Note Cards for Sale section of this site. The message inside reads "It is no secret you will have a Magical Christmas!" And there's a sweet story on the back of every card! The cards are 7″ x 5," packaged in boxes of eight for $24.00. Quantities are limited and they are selling fast so order yours today!
Make sure you are the first to know about all of my news, appearances and any "special deals" I am offering to my subscribers, by taking the time to sign up for my weekly newsletters now. CLICK HERE to sign up. You will also receive a FREE slideshow showing the step-by-step development of my painting, "Celebrating Time and Tradition at Macy's".