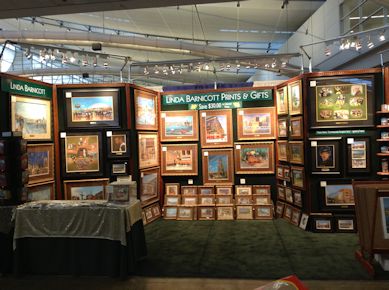 I can hardly believe another (eventful) year has come and gone! And just in time to help put this long, cold winter behind us, tomorrow is opening day for my biggest show of the year, the 2014 Pittsburgh Home and Garden Show at the David L Lawrence Convention Center Downtown, Pittsburgh.
Because this is my 19th year at the Home and Garden Show, and to celebrate my 25th year as a Pittsburgh artist, I'm making a special anniversary offer for anyone who comes down to the booth to say hello – selected Lithograph prints will be 25% off!
As I said, this is my biggest show of the year, where I'll be unveiling my newest creation, "Oasis of Beauty at Phipps," as well a collection of several new pastel landscape originals. Also new this year will be a lot of new paintings and giftware, featuring my new line of giftware – full color on metal – designed with Wendell August Forge. I'll also have sets of Pittsburgh coasters and coasters featuring my landscape paintings for sale. I am very excited for you to see how beautiful these new pieces are!
The show runs from Friday, March 7th through Sunday, March 16th. My booth is #3146, on the second level at the beginning of the Home Interiors section – my booth is first in the Art Aisle. I can't wait to see you there!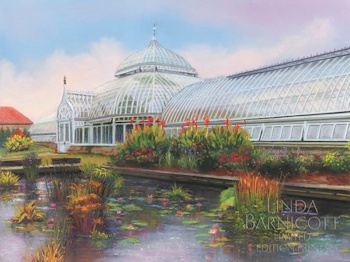 On a warm, gentle summer day, with the sweet fragrance of flowers in the air, the old Victorian glass house of Phipps Conservatory stands in Oakland, beckoning families and friends to enjoy its beautiful flowers and gardens.
Image size – 16" x 12"
Archival Giclee Print – Retail $70.00
Original Pastel – $2800.00