OK, so that's the motto of the US Postal Service, but mail carriers aren't the only ones who have to go to work no matter what the weather! Lately, some of us would rather escape to a warmer climate, or at least just stay home, but we still have to go to work.
I was thinking about that while I spent the last week driving around in the snow and sleet, picking up paintings and delivering them to their new owners… sometimes in private homes, sometimes in a place of business. Which reminded me of how much time people spend in their offices every day, not only in their own workplace, but other offices as well, like those of their doctor or dentist.
I thought "Wouldn't it be nice to see familiar art on the walls that reminds you of home, brings back happy memories, or gives you something to talk about with those around you?" You might take a walk down Memory Lane, or maybe even have a conversation where you learn something new about our beautiful city.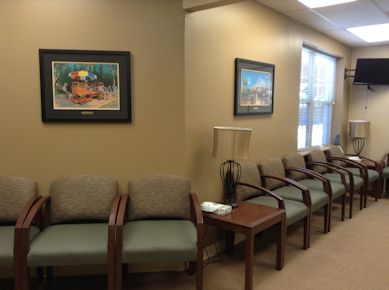 Many of my clients have decorated their offices with my work, and they tell me it inspires great conversation and stories from their clients and co-workers.
Could your office use a makeover? What is now empty wall space could be just the right place for a special painting. While you're sitting at home waiting for winter to thaw into spring, why not check out my website, www.lindabarnicott.com? Maybe you'll find something that will bring a little cheer to your heart on a midwinter work day.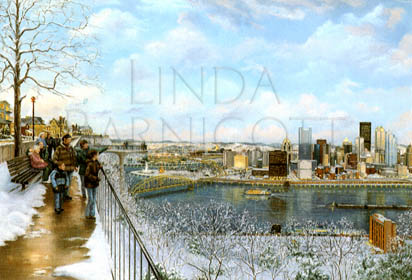 The cold and snowy weather this week also reminded me of when I climbed through half a foot of snow for two and a half hours to find just the right spot to paint "A Grandview of Pittsburgh." I could hardly see the city from the overlook in the wintry weather, but what an experience to see such beauty in the freshly fallen snow! Though the snow was only 6 inches deep, I'm only 5 feet tall… so it was almost up to my knees!
I painted "A Grandview of Pittsburgh" with the idea of recreating the experience of bringing friends and family up to Mt. Washington to show off our Golden Triangle. Fewer than 30 prints remain of this edition, so if you'd like to own a copy of this iconic view of our city from Mount Washington, don't delay!