Since 1913, sweethearts, friends, families, classmates and colleagues have met under Kaufmann's Clock
By Marylynne Pitz / Pittsburgh Post-Gazette April 21, 2013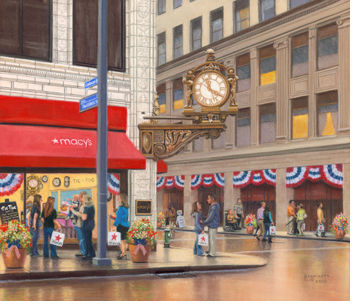 Now that cell phones tell us the time, a landmark like Kaufmann's Clock may seem utterly prosaic. But, to Pittsburghers, it's far more than a machine that measures the minutes; it's been a popular spot for a rendezvous for a century.
Since 1913, sweethearts, friends, families, classmates and colleagues have met under its gleaming bronze aura before going inside to lunch at the Tic Toc, a clock-lined restaurant where diners can order a tea sandwich plate, a burger or mile-high ice cream pie.
To mark the 100th anniversary of the current clock's installation and the tradition of meeting under the beloved timepiece, Macy's and the Pittsburgh Post-Gazette are inviting Pittsburghers to submit their photos and memorable stories of meeting under the clock.
The 10 contest winners, each of whom will receive a $100 Macy's gift card, will be honored May 17 at a 9 a.m. breakfast held at Macy's Downtown. When the owner of Macy's bought the Kaufmann's stores in 2005, the deal included the sprawling former flagship of the Kaufmann's chain.
The current clock is actually the second one at Fifth Avenue and Smithfield Street. The original, four-faced clock was installed in 1884 and stood on a post at that intersection. When it was removed during an expansion, the public complained.
The present clock was designed by Coldwell Clock Co. of New York City and weighs about 2,500 pounds. It was incorporated into the building's facade by the Pittsburgh architectural firm of Janssen & Abbott.
In 1987, when the clock was dismantled for cleaning and restoration, more than 100 pieces were removed in a two-part process that took three days. The clock's works were tagged, numbered and photographed to ensure accuracy. Three teams of 15 specialists worked for 10 weeks on the restoration.
The clock's surface was so heavily oxidized and coated with 74 years worth of soot, grime and pigeon droppings that chemical cleaners and solvents proved useless. Using bridge cleaning equipment, workers blasted 1,000 pounds of ground corncobs at the clock to clean it.
Select photos and excerpts from winners' stories will be showcased in a store display window at Fifth Avenue and Smithfield Street. The display will commemorate the clock's history. Contestants must recount their story of meeting under the clock in 1,000 words or less and may submit up to five images, with their name and address attached to each picture. Entries must include your name, address, city, state, zip code and daytime phone number.
Deadline for contest entries is no later than 5 p.m. on May 3. Submissions can be mailed to Clock Contest, Pittsburgh Post-Gazette, PO Box 590, Pittsburgh, PA 15230. Entries may also be dropped off at the Post-Gazette, 34 Blvd. of the Allies, Pittsburgh, PA 15222. To enter online, visit www.post-gazette.com/clock. One entry per household. A panel of Pittsburgh Post-Gazette judges will review all entries and notify the top 10 winners by May 9.