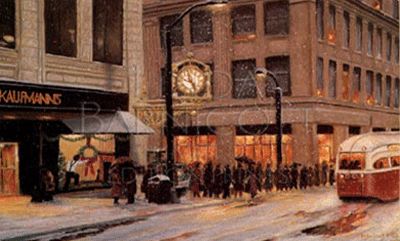 Happy New Year! I hope it's been a happy, healthy one so far for you and yours.
Tom and I just returned from a much-needed vacation in Florida. Our timing was perfect – we missed the dreaded Polar Vortex that Pittsburgh just experienced. In fact, our daughter, who was left with the duty of caring for our dog, Allie, called to tell us "The wind chill is colder than it is on Mars!" It was colder than usual in Florida, too, but still funny for us Pittsburghers to see a woman walking by the pool and palm trees wearing a wool cap and coat in 50-degree weather!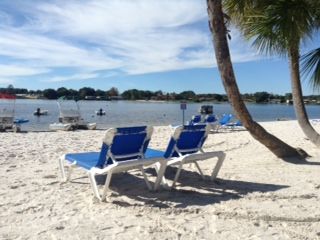 One great thing about being on vacation is that you have plenty of time to think about your life, your family, and your career. As Tom and I walked hand in hand along the sandy beach, dreaming about the coming year, we were reminded that it was 25 years ago that I created my first Pittsburgh print, "Meet Me Under Kaufmann's Clock."
Over the last 25 years, I've created more than 50 paintings of special places in and around the city. I have painted each of these with love and in the hope that they will warm someone's heart. I have been blessed to hear your stories, but unfortunately, I haven't written them down.
So to help celebrate my 25th anniversary of creating Pittsburgh art, I'm making a special request – It would mean a lot to me if you would you share your story of how my art has given you a treasured memory. Whether there's one painting that's special to you or many, I'd love to hear from you and get your permission to publish the story as part of my history moving forward.
My email is info@lindabarnicott.com.
As this year unfolds, I plan to incorporate the number "25" in a lot of ways to celebrate my Silver Anniversary, so keep an eye on your inbox! Some of them will be exclusive only to you!
I can't wait to hear your stories! Best to you in this New Year…