Read Linda's blog "Discovering Pennsylvania's Route 6" on Blogspot.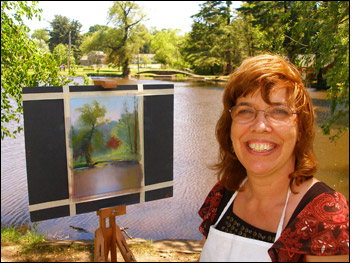 When Linda Barnicott arrived at Mead Park Wednesday afternoon to sketch Alice Lake and its attractive footbridge, the artist brought all the necessary supplies.
• Hundreds of pieces of pastel chalk.
• Wallis paper.
• An easel.
• A small folding tables to hold her materials.
But the most important items may have been the two bungee cords Barnicott needed to secure her easel to keep it from blowing away in the gusting wind.
Barnicott and her husband, Tom, used the cords to bind the easel with her suitcase, which served as an anchor. "That's kind of like a sandbag," Barnicott said with a laugh. Dealing with the weather is something new for Barnicott, a Pittsburgh-area artist who often creates her nationally recognized pastel drawings in the comfort of her home studio in Monroeville.
Barnicott, 53, is now taking her talent on the road and into the open air – specifically on Route 6, which stretches from Pennline in Crawford County, a mile north of Lake Pymatuning on the Ohio border to Matamoras on the New York-New Jersey border.
She is among several artists who have volunteered to travel along Route 6 to produce landscape art works in communities along the way. Barnicott hopes to create about 20 art works for the project, which is sponsored by the Pennsylvania Route 6 Alliance. Works of all the artists eventually will be gathered together to create a traveling exhibit that will visit communities on the Artisan Trail, including Corry, and eventually to every state capital in the lower 48 states over the next five years.
Traveling in their Toyota Camry hybrid, Barnicott and her husband, the pastor of the Monroeville United Methodist Church, are spending Monday through Friday this week visiting communities along Route 6 from Lake Pymatuning to Wellsboro, which is about halfway across the state on Route 6.
The Barnicotts previously visited Corry on a rainy May 26 and photographed several sites for possible art works, including Mead Park, the Smith Education Center, the Pennsylvania State Fish Hatchery and city park.
Barnicott decided her first work would be the footbridge at Alice Lake, and that's where she began Wednesday afternoon. Barnicott said she was drawn to the romantic aspect of the bridge. "I've heard the stories of all the brides and grooms who come here," Barnicott said. "That brought out a whole different atmosphere for me." Barnicott, who has been creating popular art works of Pittsburgh scenes and people for more than 20 years, said the Route 6 Artisan Trail project is right up her alley.
"This is fun. I love the creativeness of it," she said. "I like being on the scene with a blank canvas and watching it start to develop. But there is the challenge of the weather." The wind on Wednesday couldn't blow away Barnicott's enthusiasm for her Alice Lake sketch.
Sometimes, she takes a sketch back to her studio and creates a new one. "Not this time," she said. "I'm going to keep working on this one," she said with a smile. "It's going to be good and I feel good about it."
George Nowack, of North Shenango in Crawford County, is coordinator of the Route 6 Artisan Trail project. A key component of the project is to have the artists talk to the people in the various communities to get a feel on how best to create a visual representation of Route 6 through art. Nowack, who has known Barnicott for about 16 years, said his friend is doing all that and more.
"She has the spark and the dynamism about her," Nowack said. "She's the only artist outside of the actual Route 6 area and we're giving her free rein."
Nowack is no stranger to Corry. Since February, he has been meeting regularly with members of the Corry Community Development Corp., the Corry Area Chamber of Commerce, the Corry Artists' Guild and other community leaders to help develop strategies to help create economic opportunities in the area. He sees the Route 6 Artisan Trail project as one way to bring out the best in Corry.
"Corry has such a potential for progress," Nowack said.
Lori Trisket, executive director of the Corry Area Chamber of Commerce, met Barnicott when she came to the city in May. Along with Pam Carrier, the CCDC's executive director, and Wendy Neckers, president of the artists' guild, Trisket served as Barnicott's Corry tour guide.
"She's an extremely nice person," Trisket said. "This project is a good way of getting more attention out there from an artist's perspective."