On Halloween night, Tom and I spent the evening outside, greeting the little children and passing out treats.
I told Tom that breathing in the crisp, clear air on that chilly autumn evening reminded me of how it feels to be in my Chalet in Market Square. It also started me thinking about one of my favorite things about November and December – getting out of the studio, renewing old friendships and creating new ones. Definitely the "second-best" part of being an artist. My face-to-face encounters with all of you are what give me such joy at this time of year and keep me energized – even better than a Halloween sugar rush!
Generally, I'm a pretty high-energy sort of person even without sugar, and this is one of those times that it really comes in handy. Especially this week as my holiday season begins with four different shows in four days!
~ A private show Thursday evening (tonight) at my home – "An Evening with the Artist." Though this event is private, I'm always happy to receive visitors at my studio during business hours. (Just call ahead.)
~ On Friday, November 4th, I'll be the featured artist at the Giant Oaks Garden Club "Breakfast at Tiffany's" event, held at Southpointe Hilton Garden Inn (1000 Corporate Drive, Canonsburg 15317) from 9:30 AM to 3:00 PM.
~ Another lovely seasonal event is "Christmas Affair" on Saturday November 5 from 9 AM to 3:00 PM at John McMillan Presbyterian Church (875 Clifton Rd, Bethel Park 15102). I'll be in Rooms 9-11.
~ I return year after year to The Old Allegheny Shoppe on Route 51 in Baldwin for their annual Christmas Open House. I'll be there from noon to 4 PM on Sunday, November 6th, where I'll be signing prints and gifts. It's a great event to start off the festive season. CLICK HERE to view my Calendar of Events and find out more about these and other upcoming events.
So with Halloween and the last of the fall festivals behind me, I've been getting my ducks in a row, putting on my "business hat" to prepare for the logistical end of the holiday gift-giving season. Like Santa, I also am making my list and checking it twice to make sure I'm ready for all my events. Stocked up on booth and art supplies… check. Filled up candle inventory… check. Ornaments and prints ordered… check!

I'd be honored if you would take some time this busy weekend to come check out my new pieces. I'd love to help you make this holiday a special one!
P.S. – For those of you who are interested, it's been a while since I posted a photo of my sweet grandbaby Aria Grace… two months old now!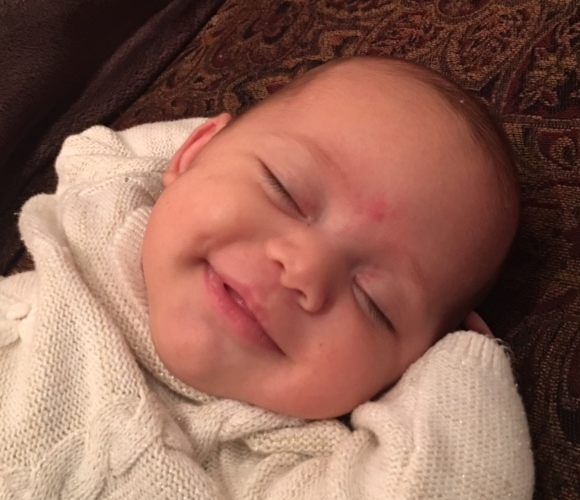 Make sure you are the first to know about all of my news, appearances and any "special deals" I am offering to my subscribers, by taking the time to sign up for my weekly newsletters now. CLICK HERE to sign up. You will also receive a FREE slideshow showing the step-by-step development of my painting, "Celebrating Time and Tradition at Macy's".