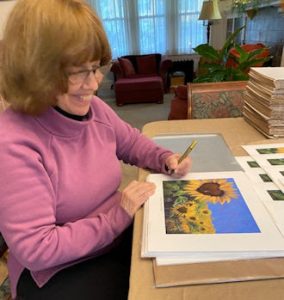 What an amazing week this has been! We are now up to 48 prints sold of "Unbroken – The Heart of Ukraine."
As soon as I got the first 33 prints from my printer, I signed each one of them in gold. Tom and I worked together to package everything, and then I was off to the post office.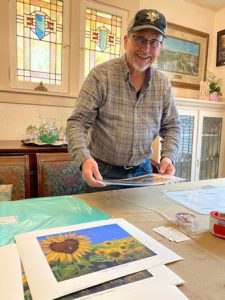 Well… let's just say it's not cool to show up at the post office on Tax Day with 28 packages!
After waiting for the eight people in line ahead of me, I finally made it to the window. I felt guilty and offered up only nine of the packages. The postal clerk was really fast and accurate, but I told her that I'd get back in line again. I was willing to do it as many times as necessary. But then when I finally made it back to the front of the line again after waiting for another half-hour and 10 more people, I asked the clerk if I should stay or do another 10 packages and get back in line. She quietly whispered "Stay."
She flew through the rest of the packages as if she had superhuman powers. Still, when I looked back at the long line behind me, I whispered to her that I was going to put my hood over my head when I walked out of there.
The next day I heard from a customer about the print she had just received. Zandy is a special person who interviewed me years ago and has been part of my life ever since. I was honored that she reached out to me!
"Just wanted to let you know how much I appreciate your painting, "Unbroken," to aid the relief efforts in Ukraine. It's a beautiful painting, and the fact that it can help people makes it all the more beautiful. I have a distant cousin in Ukraine who has young children. I've been in touch with him during the conflict. Fortunately, they are in the country in a small town and not in any danger at this point. He is an artist himself, so I definitely want to share this with him. I feel so honored that I got to interview you all those many years ago and follow your career.
I have your Kennywood Noah's Ark painting facing my desk at work. It's such a pick-me-up on boring and gray days around here. Thank you for so much again doing this painting. I just love it!
(I didn't make it clear, but it arrived today and it looks great on my blue living room wall. I just need to get a frame!)"
In other news, I was interviewed recently about the fundraising project by a local writer, Harry Funk. Check out the article at: https://triblive.com/local/south-hills/painter-provides-unbroken-support-for-ukraine/
Harry also knows people from Ukraine and has visited there. He told me this war is hitting him very hard as well.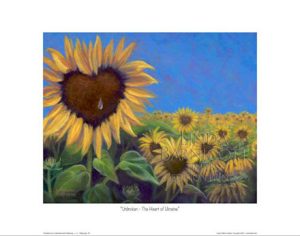 If you would like to donate to help the Ukrainian people by ordering a print, you can find the link on my website at:
https://lindabarnicott.com/product/unbroken-the-heart-of-the-ukraine/