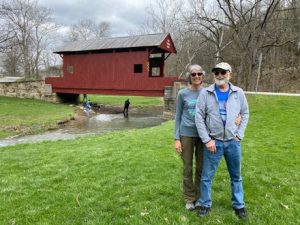 Since I wrote last week, it's been nonstop activity around here!
My oldest and dearest friends have been in town visiting Tom and me for the last five days. Friendships like ours are truly golden, and my soul has been full of joy. While they were here, my friend Ron remarked that my original painting of Mingo Creek Park's Ebenezer Bridge ("Evening at Ebenezer Covered Bridge") may just be his favorite of all my paintings.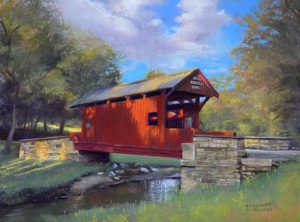 So as we discussed where to go while they were visiting, it seemed like a perfect plan to take them and our grandgirls (who were on spring break) to see the bridge! I packed extra clothes for the little ones, because I just had a feeling they were going to end up in the creek… and I was right!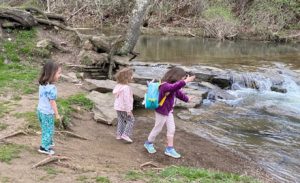 Last Thursday night, I was honored to be invited to speak to the Green Thumbers Garden Group at the Whitehall Library. I had an amazing experience just telling my story and later signing and selling my work. Everyone really seemed to enjoy themselves – plus, I didn't put anyone to sleep during the program!  Just a reminder that for any one of you who may have the responsibility to provide programming for your group, I am available to speak at events. I'll do my best to bring lots of memories and plenty of laughter and inspiration.
Ukraine Fundraiser Update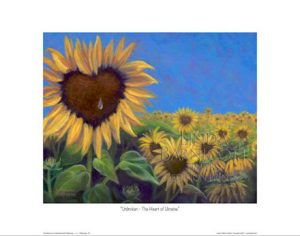 Wow! A big heartfelt "Thank You" to everyone who has already ordered my new print, "Unbroken – The Heart of Ukraine." So far, we've sold over 30 prints just since it went live last week. Every time I've asked my printer to make some new prints, I've had to call him back for more! I am humbled by the outpouring of support for the humanitarian efforts for Ukraine.
I'll be sending out the first group of prints as soon as I get them from my printer. If you would like to order a print for yourself or a loved one, each colorful print is 11 x 14 inches with an image area of 8 x 10 inches on archival paper. If you prefer, you can actually frame the piece without the need for matting – a definite plus!
Sales of the prints will be handled through a collaboration with the Unitarian-Universalist Church of the South Hills (Sunnyhill). (For tax purposes, I need to work through a charitable entity to receive and distribute the funds directly to the humanitarian relief organizations.) All profits – minus the cost of printing and postage – will be donated directly to these two fine organizations:
The Ukrainian Red Cross
The Red Cross is often on the frontlines of war serving to help those affected by armed conflict. The Ukrainian Red Cross is currently assisting people inside the country by aiding evacuations and providing shelter, food, and basic necessities.
The Voices of Children Foundation
Created in 2015, the Voices of Children Foundation has been providing psychological support to children affected by war in the Donetsk and Luhansk regions of Ukraine through art therapy, video storytelling, mobile psychologists, and more. Now the organization is working to support children across Ukraine with emergency psychological assistance and assisting in the evacuation process.
I hope you'll consider supporting this very worthy cause. To order your print, just visit my website:
https://lindabarnicott.com/product/unbroken-the-heart-of-the-ukraine/