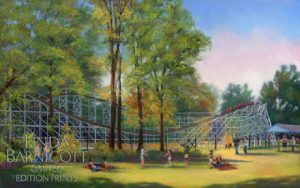 Despite all this crazy cold weather, summer is indeed on its way, and our thoughts are going to outdoor activities.  For me, that means long rides in the country, finding views with rivers or lakes, and going to amusement parks with my family.  One of our favorite destinations over the years has been Conneaut Lake Park.
The park was built in 1892, and it's had its struggles in recent years. According to their website (newconneautlakepark.com), there's a lot going on there this summer, but there's one thing that will be gone and sorely missed – the Blue Streak roller coaster.
In 2010, I was part of a campaign to help with renovations on the Blue Streak by donating a percentage of the proceeds from my print, "Blue Streak Thrills at Conneaut Lake Park."  That campaign lasted a few years. I'm sure it wasn't much, but I think it did help the cause at that time.
I still remember the day I drove up to the park to take the references photos I needed to paint the piece. As I was escorted through the park, I could imagine the shrieks and laughter of the children as they rode the Little Dipper, the Tumble Bug, and the Flying Scooters.
I was given permission to walk alongside the Blue Streak tracks to get inspiration on how to show it to its best advantage. The first thing I noticed was that the Blue Streak reminded me of another painting I had done several years earlier, "The Dips at West View Park." I remember asking myself, "Is this the same coaster design?" I later found out that they were sister coasters sharing the same design characteristics, so I found myself on familiar ground!
Unfortunately, the Blue Streak was a big coaster, and beyond the loading platform, it entered a stand of huge trees and then emerged from the other side. This would make it very difficult to paint the entire coaster, so I had to decide which part of the ride I would put in the painting. In the end, I chose to show the coaster coming out of the woods and the quick turn out by the highway. Many families, I was told, would enjoy the nice weather by playing and picnicking in that area.
Once I had the coaster sketched out, it was time to bring in my "models." Some park employees joined in, and a few American Coaster Enthusiasts added to the fun.  Of course, my usual models, Tom, Britt, Alyssa, and my soon-to-be son-in-law Jon were happy to help out!
The biggest surprise ended up being the assistance of a wonderful family from our church at that time (in Monroeville). We were talking about the painting after the first service, and I discovered that both Sharon and Tom had many special memories of family fun outings at Conneaut when they were kids. They agreed to pose for me out on the church lawn with their three daughters, and then after the second service, they came back in their picnic clothes, complete with a ball, a picnic blanket, and even some bubbles to blow! The painting turned out to be a lot of fun to create, in part thanks to their contagious enthusiasm!
Riding the Blue Streak was a beloved tradition for generations of kids growing up in Western Pennsylvania. If you're interested in acquiring this colorful nostalgic print, it's available as an archival giclée limited edition.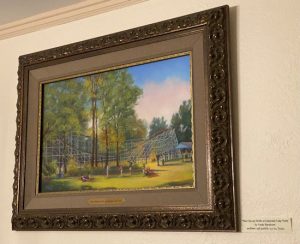 I sold the original "Blue Streak Thrills at Conneaut Lake Park," just this morning. I'm so excited that it will soon be off to its new home!
Color Archival Giclée Prints and Artist-Enhanced Giclée's are available on my website: https://lindabarnicott.com/product/blue-streak-thrills-at-conneaut-lake-park/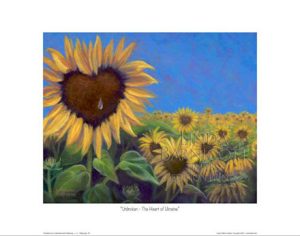 P.S. – Update on "Unbroken – The Heart of Ukraine." I shipped out another 35 prints on Tuesday! And as of Thursday (4/28), you can find the article in the South Hills Record and the Bethel Park Journal. It sure is making the rounds! I am thrilled that the print and our fundraiser have been so warmly received. Shall we set a goal to sell 100 prints?
If you'd like to order a print or maybe even more than one (which is happening!), check out the link on my website, https://lindabarnicott.com/product/unbroken-the-heart-of-the-ukraine/
Remember, all profits go to humanitarian relief in Ukraine. Thank you!!!