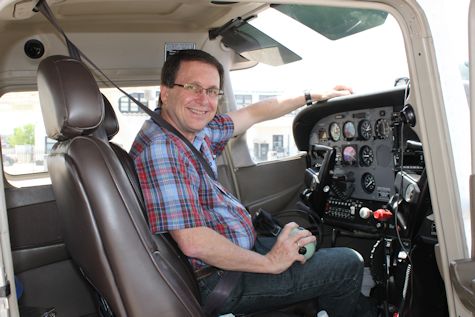 As a small boy, my husband, Tom, dreamed of learning to fly. His dad would pack up a lunch of brick cheese and rye bread, and together Tom and his dad would park at the end of the runway at the old airport and watch the planes take off and land. As Tom grew up, he found that he needed glasses, which meant he would never be able to become a pilot. Of course, he later found his calling in the ministry, but he never forgot his dreams of flying.
During the holidays, I met with a new client of mine who runs a flight school in Virginia. As we discussed her art needs, I told her the story about Tom's childhood dream. Imagine how delighted I was when she offered to give him two lessons, complete with a flight log book that I could put under the tree on Christmas morning. It's not every day you find the best possible Christmas gift for your spouse!
Of course, I had to do it right… so right before he opened all of his gifts, I wrapped up a basket with the flight book under a chunk of brick cheese and rye bread. When he opened it, I thought he was going to lift off right there in the living room!
So Tom had his first flying lesson this week… and he was like a kid in a candy store! He took off from Allegheny County Airport, and then later he texted me from Rostraver Airport, where he was practicing his takeoffs and landings. His text read, "This, next to our wedding and the kids' births, is the best day of my life."
It was a wonderful feeling to enable Tom's dream of soaring through the sky. Now I'd like to help others "soar" in a metaphorical way by teaching them how to express themselves and find joy through art, painting their favorite people, places, and things.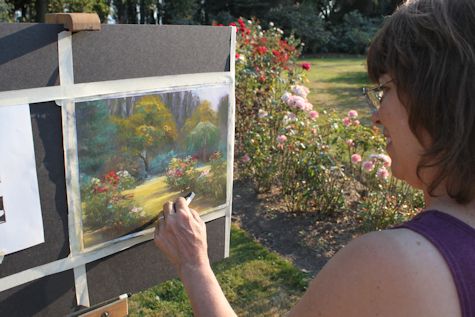 When I open my new studio in Bethel Park, I will begin taking private students for the first time in many years. I'll be accepting students in my medium, pastel chalks, at any level – from absolute beginner to accomplished amateur. If you (or your spouse or anyone else you love!) dreams of learning to paint and draw, I want to help you achieve that dream.
The program will consist of a series of four weekly private lessons; each class is a two-hour private session. That's eight hours of "one-on-one" instruction each month!
Please share the news! Classes will begin enrolling soon. If you know someone who would like to learn pastels and drawing, please contact me via email, info@lindabarnicott.com