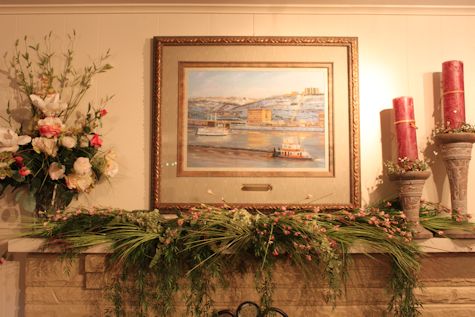 As the stacks of boxes rise higher and higher, I can't avoid thinking about how Moving Day is getting closer and closer! I thought this would be a good time to give you a last look at my Monroeville home/studio and show you how I display my personal collection of originals. While some folks can't make up their minds where to hang just one more painting, I somehow found places for 33 paintings in two rooms, with five more in my small foyer!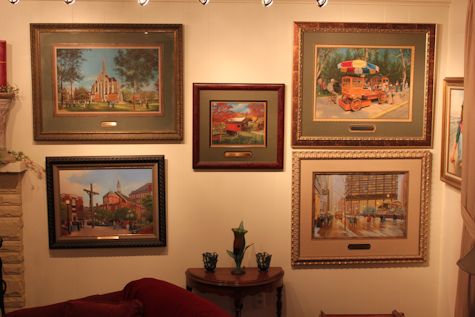 Many of my clients have questions about framing their paintings. Should they all have the same style of frame? Or perhaps all different frames? As you can see with the pieces I have hanging in my home, I like an eclectic look and choose different frames to suit the individual paintings. Of course, others prefer a more unified look where all the paintings are framed alike. It's really a completely personal choice with no right or wrong.
I can literally spend hours searching for just the right combination of color mats and frames. These are the finishing touches that really complete the overall look of the piece. Again, it's simply a matter of your personal style… the mat and frame combination that harmonizes with the art in a way that speaks to you.
Each and every one of the pieces hanging in my home has been framed and also protected by museum-quality glass (UV protective or museum glass) by my tremendous framing partner in Beaver.

So as I was saying, Moving Day is just around the corner! I will be shutting down my studio on June 23rd until I open back up officially on July 7th. That means this is the last full week of my Super Secret Originals Sale! This one-of-a-kind sale will never be offered again.
If this is the first you are hearing about my Super Secret Originals Sale, that means that you are not on the list to receive my weekly newsletter. CLICK HERE to become a subscriber. When you become a subscriber and one of my special collectors, you will always be among the first to hear about all my news!
This is your last opportunity to invest in one of these original pastel paintings (or your choice of many more that are in my studio) at a one-time-only price! Please call my studio at 412-372-3200, shoot me an email at info@lindabarnicott.com, or call my cell at 412-722-9413.
So please take pity on me… don't make me pack up all these paintings! I hope to hear from you soon!
Check out this lovely testimonial I received from one of my wonderful customers in Michigan when she received her Pastel Original of "Pennsylvania's Rolling Hills."
"My painting arrived late this morning. It is gorgeous! A beautiful little jewel!! I'm trying to find a picture hook so that I can put it up right away. This will be a painting that I will look at often, anytime I want to think about 'home.' And that's getting to be more frequent as the years speed by." – Sandy