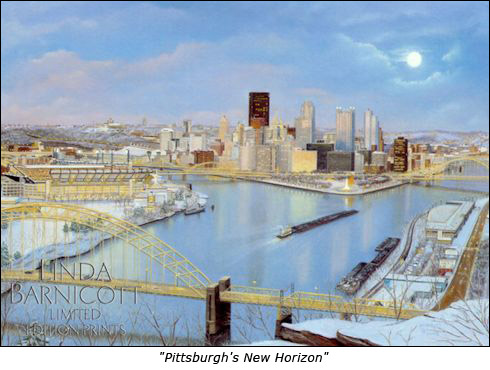 Back when our daughters, Brittany and Alyssa, were growing up, Tom was the minister at Emanuel United Methodist Church, and for four years, we lived in Pittsburgh's West End neighborhood. At that time, we had the pleasure of living literally just down the street from the West End-Elliott Overlook – which as Pittsburghers know offers the very best straight-on view of the Golden Triangle!
It seemed as if fireworks were almost a daily occurrence during Pirate season, and as soon as we heard the first one go off, we would all run to the car and drive up to the Overlook. It was like having our own personal fireworks show!
Though we moved out to Green Tree after the first four years at Emanuel, for years I thought about that view just up the street from us and how much I wanted to paint it. In time, new stadiums and a new convention center changed our skyline, but the last time I painted that view was in 1992 for one of my best-known paintings, "My Hometown."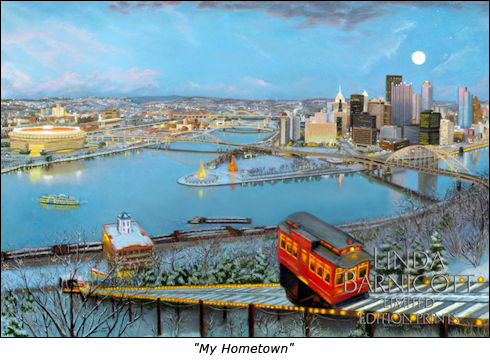 When I finally created "Pittsburgh's New Horizon" in 2005, I was very sensitive with my pastel chalks, as I wanted to make the city look as beautiful as I could from this vantage point 13 years later. It became one of my favorite paintings and has hung over my mantel for years.
Fast forward to 2014, when one of my loyal customers came by to purchase my original painting, "Game Day at Heinz Field." As he inspected the painting, he talked about how much he loved this view of the city and how the sky looked in the original. "It's a real Pittsburgh sky," he commented. At that moment, I realized that what really spoke to him was the "Pittsburgh memory." He wasn't just a Pittsburgh sports fan, but truly an honest-to-goodness fan of Pittsburgh itself!
I then noticed that he was drawn like a magnet to "Pittsburgh's New Horizon" in its place over my mantel. He spent a long time gazing at the painting and noting all the little nuances of my work… then he looked at me and asked, "Is this one for sale?" I knew in that moment was I going to have a bare spot above my fireplace! (As always, I've requested visitation rights so that I may still see it from time to time.)
Folks often ask how it feels to sell an original. Many times they refer to it as "letting it go." I remember all the love I put into it, and I pause. Then I think about how much it will be loved in its new home… how much joy it will give to a new family… and the many conversations it will have around it. Then I remind myself that I'm sharing a gift that was given to me when I was just a child. It may not be the best, but it makes a difference.
PS… As moving day draws near, there are still originals in my studio that are looking for their "forever home." If you are not already on the list to receive my weekly newsletter, and if you want to find out about my Secret Sale on originals, CLICK HERE to become a subscriber. Check out the available originals at my website, www.lindabarnicott.com, or call (412) 372-3200 to make an appointment to visit the studio. One of my originals could be yours at a great price! Hurry, the sale is ending mid-June.