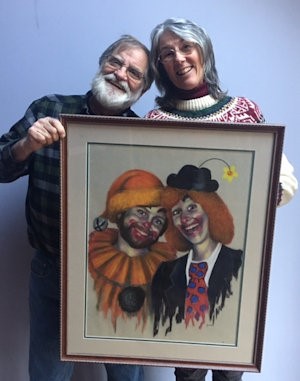 All my life, my art, my painting, has been the way I express myself best and communicate my feelings.
When I was a girl, I was very quiet on the outside. There was a lot going on inside my head, but to everyone else, I was just a shy little kid.
If I liked you, the easiest way for me to express it was through my art. I would probably draw a portrait for you or maybe even make an attempt at a needlepoint gift (though I was really awful at that!).
Sometimes I would even create something out of the woodworking scraps that my father had in his garage. That garage was full of just about everything you could think of.  My dad was the original "Jack of all Trades," and to me he was a "Master of Everything." I miss him most of all during the holidays.
Speaking of being with loved ones during the holidays, this year I had the privilege of spending two glorious days in New Jersey with my dearest friends – Ron, who I met when I was 9 years old (so this year it's our "50th Anniversary!") and his wife Kathy.
Kathy had been a friend of mine from RCA, where I worked when I lived in New Jersey before Tom and I got married. I'm obviously an excellent matchmaker, because I introduced Kathy to Ron in 1977, and they have been together ever since.
Over the years, I showed them how much I cared by creating many pieces of art just for them. Ron and Kathy are preparing to sell their home, and this weekend I had a chance to see a few of those pieces before they went into storage for a while.
I thought it would be fun for them to pose with two of the pieces they were in and recreate their poses from the original paintings. The one shown at the top of the page was a fun clown painting that I had surprised them with back in 1981. The other was this drawing I had made for their wedding in 1979.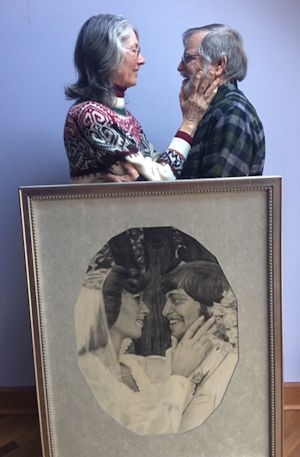 Friendships like ours are golden, and seeing my artwork in their home reminded me how much that shy girl really cared for them. Art is a language all its own, and I feel very privileged that I can use my art to create gifts of love.
May this New Year bring you comfort, love, joy, hope, and good health.  Here's hoping that 2018 will be spectacular!