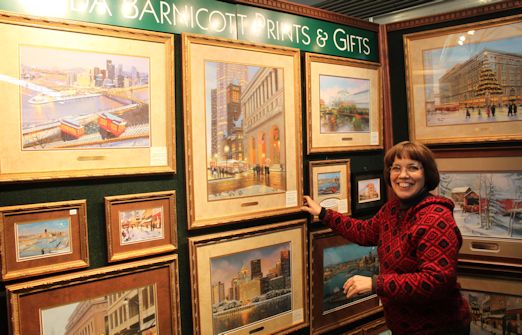 At last, the Pittsburgh Home and Garden Show has arrived! To say that I'm excited is an understatement! And for so many reasons – maybe it's because this is my 20th year at the show… or the fact that Spring is finally predicted to arrive and bring better weather (fingers crossed for warmer temperatures and no snow for the next 10 days). Or maybe it was seeing old friends on the loading docks and on the show floor, with many of my fellow artist friends setting up right alongside of me in "Artists' Row."

Whatever is responsible, I'm certainly feeling inspired… and I'm looking forward to seeing many of you at the show this year. I'm at Booth #3146-8. To learn more about the show, visit my Calendar of Events.
PS… As this blog is being posted, there is only one copy left of "A Holiday Tradition". So if you have your eye on that one, call me if you'd like to reserve this print before it's offered to the public at the show. Please call my cell (412-722-9413) or shoot me an email at linda@lindabarnicott.com so I can set it aside for you.
It's hard to believe, but I've been writing my blog, almost every week now, for a little over a year and a half. Some of you have just joined me recently, while many of you have followed me for a long time. It means a lot to know that you're out there reading my stories each and every week. If you enjoy hearing about my "adventures" and keeping up to date with my sales, I would love it if you would please tell others who might enjoy it, or my work, about my website and my blog.
Make sure you are the first to know about all of my news, appearances and any "special deals" I am offering to my subscribers, by taking the time to sign up for my weekly newsletters now. CLICK HERE to sign up. You will also receive a FREE slideshow showing the step-by-step development of my painting, "Celebrating Time and Tradition at Macy's".