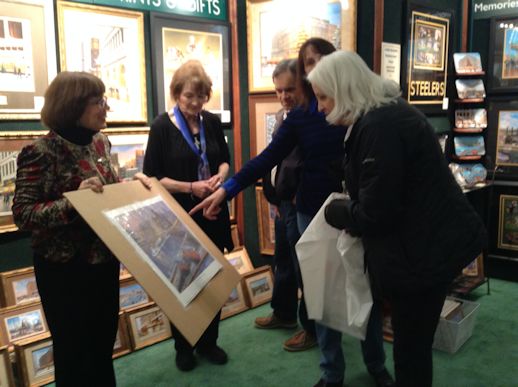 We're in the final days of the Pittsburgh Home and Garden Show! If you haven't had a chance to stop by yet, I'll be here until the show closes at 6 p.m. Sunday.
As you already know, this year has marked my 20th anniversary at the Home and Garden Show, and it's already been a memorable one. Many of you have already taken the time to visit me at the booth to say hello, including quite a few folks I hadn't met before.
It's not just about selling my artwork. The best thing about being here is reconnecting face-to-face with long-time friends as well as meeting so many wonderful new friends. I've heard many funny stories and many touching stories, some that have even made me cry. Just being at the show is a blessing… is it any wonder I've been coming back for 20 years?
This is also my time to listen and learn. I get so many amazing ideas for future paintings by talking to show visitors and hearing their suggestions – from portrait commissions, to new Pittsburgh scenes, to favorite Kennywood locales, I thank you for sharing your thoughts.
Speaking of Kennywood… I had an exciting day on Monday when I sold one of my original pastels, "Celebrating Kennywood's Fall Fantasy." My originals are very dear to me, but it warms my heart to place one in a happy home, knowing it will be bringing a smile to someone's face every day.
Remember, there are just a few days left to take in the Pittsburgh Home and Garden Show and especially to visit me at Booth #3146-8 at the David L. Lawrence Convention Center. I'll be looking for you! Be sure to stop by and say hello.
Make sure you are the first to know about all of my news, appearances and any "special deals" I am offering to my subscribers, by taking the time to sign up for my weekly newsletters now. CLICK HERE to sign up. You will also receive a FREE slideshow showing the step-by-step development of my painting, "Celebrating Time and Tradition at Macy's".