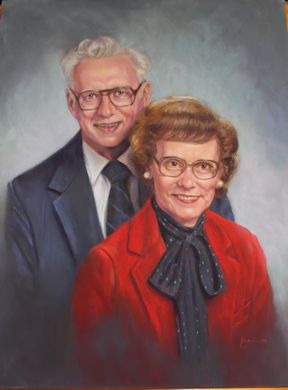 Just before Christmas, I received a very special commission, and I've been working diligently on it over the last few weeks since I returned from Florida.
One of my clients had asked if I would paint a portrait of his parents. My goal was to make my subjects come alive, as if they could literally step out of the canvas. I wanted to create something that my client and his family would treasure for a lifetime.
To begin, I asked him for his favorite photo of them (the first thing I always request for portrait work), and he gave me an old studio shot of his parents. The photo was from the 1980s, and the colors had really changed and faded. Fortunately, he had enough supporting photos that I was able to find everything I needed to get the details just right.
I thought you might enjoy a little glimpse into how the finished portrait came together…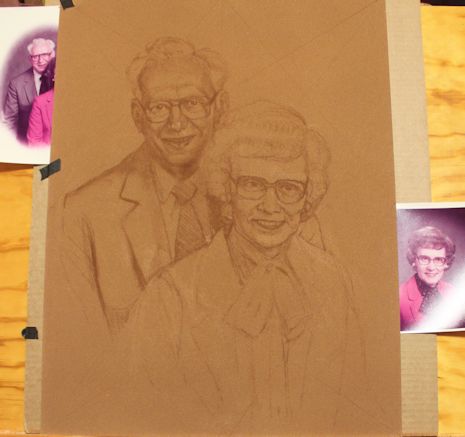 Me: "Hi R, here is the first draft. Each draft I will change the drawing to be more and more accurate. Please let me know your concerns as we go."
R: "Superb! You are doing a great job! The detail is emerging quite nicely…"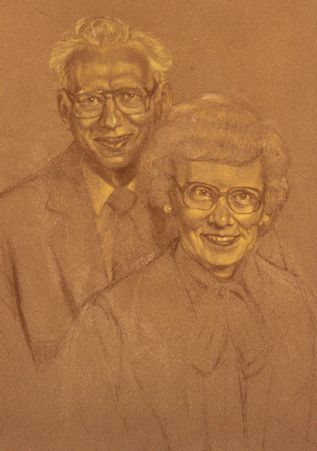 "I am in awe when I see the wonderful work that you have done so far with their portrait. WOW!! How perfectly you captured both of them!"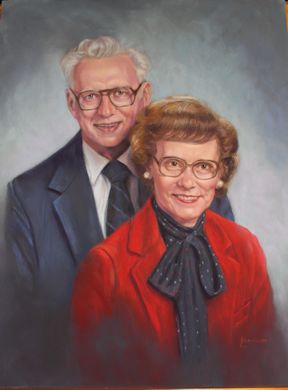 "The more I study your work, the more I am convinced that what you have done is now looking far better than the photograph! The clarity, the dimension, the depth, the color tones are all right on the money. Mom looks as though she is ready to come alive and jump off the canvas…
As was already said, this is not only a WOW, but also a WOW! WOW!"
Because I love the challenge of capturing the real essence of my subject, a portrait is my favorite kind of art to create! If you or someone you know would treasure an original painted portrait of someone you love, let's get together for a consultation. Just give me a call at (412) 722-9413 or send me an email info@lindabarnicott.com. Remember, good art takes time, so plan ahead if you want to commission a portrait to commemorate a special occasion.
PS – Coming next week – Big doings at the Home and Garden Show! Come see what my 20th year at the show looks like! The show runs from March 6th to March 15th at the David L Lawrence Convention Center (Booth 3146-8).
Make sure you are the first to know about all of my news, appearances and any "special deals" I am offering to my subscribers, by taking the time to sign up for my weekly newsletters now. CLICK HERE to sign up. You will also receive a FREE slideshow showing the step-by-step development of my painting, "Celebrating Time and Tradition at Macy's".