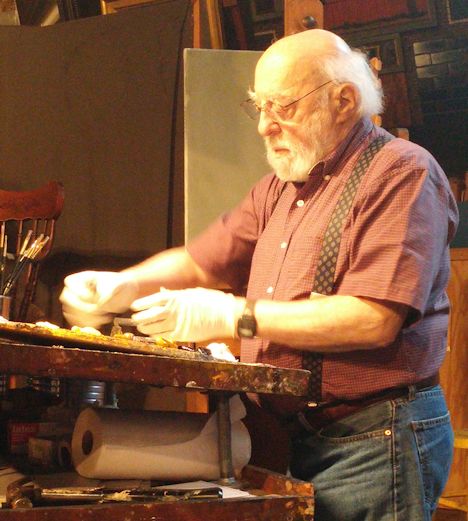 This week, I'm writing to you from upstate New York as I begin my three-week working vacation. I call it a working vacation because I'm doing a lot more work than I am relaxing!
Let me take you back… way back… back 34 years to when I was a 23-year-old newlywed. In a leap of faith, I took a solo trip (leaving my new husband behind!) to North Salem, New York, to study with a legendary portrait artist I'd read about in American Artist Magazine. Daniel Greene was known internationally for his work, and his list of accomplishments even back then was very impressive.
I was nervous and maybe even a bit scared about how it would turn out. I had just started painting in pastels and found them a bit tricky to control.
Mr. Greene had a huge barn with north light set up as the studio where we would work. Each day, we arrived and started right on time, as he instilled his wisdom through lectures and demonstrations throughout the day and night. It was there that I created my first successful pastel portrait. (I wish I had it to show you!)
I'm remembering the famous quote by Yogi Berra this week – "It's like deja vu all over again!" – as I relive that week that was such a milestone in my career… and I'm working just as hard as I did all those years ago. Mr. Greene may be an energetic octogenarian now, but his mastery has only grown over the 34 years since I saw him last.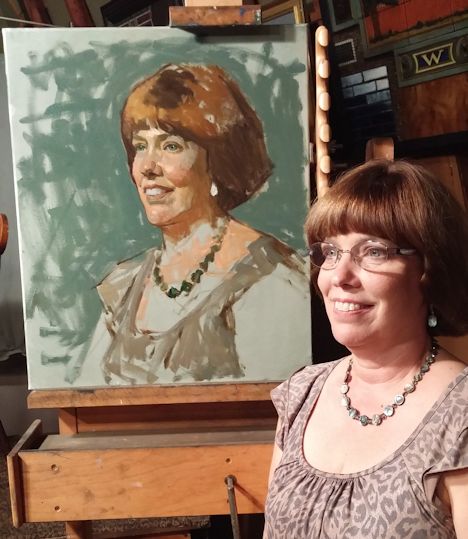 The Sunday night session started off with an oil portrait demo, and when no one else was willing to pose as Mr. Greene had asked, I volunteered. Much to my delight, he painted my portrait in about two hours! I am thrilled to say he is signing it on Friday, and I will take it home to as a gift to Tom.
While I sat for him, he mentioned that I didn't have to smile and that most models do not. My response was that it's just how I roll… as you know, I can hold that smile for hours!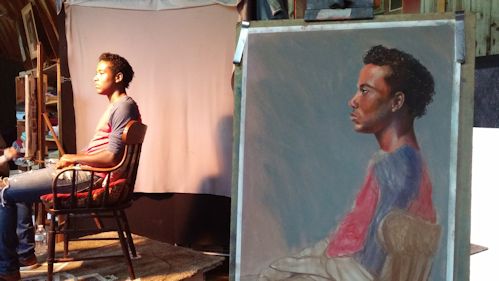 The fellow I am working on in this painting is a nice young man named Lucas. It's been quite an interesting experience working 1) with a live subject, 2) without good light and 3) in a standing position – these are definitely three things that DO NOT happen in my studio back home in Bethel Park! Nonetheless, I am honored to be here with the best of them and enjoying every minute.
Next week, I'll try to write again from Nova Scotia, as that's where Tom and I are headed next. Then we're moving on to Prince Edward Island for some downtime over the coming weeks. And of course, I hope to squeeze in a few paintings before we head for home!
Make sure you are the first to know about all of my news, appearances and any "special deals" I am offering to my subscribers, by taking the time to sign up for my weekly newsletters now. CLICK HERE to sign up. You will also receive a FREE slideshow showing the step-by-step development of my painting, "Celebrating Time and Tradition at Macy's".