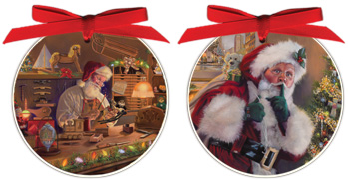 As my art business grows and evolves, sometimes older product lines are discontinued to make room for new ones. With a new line of Christmas ornaments in the works for 2017, I've decided to stop production on my ceramic ornaments. The last time they will be available is at the Pittsburgh Home and Garden Show in March.
I am discontinuing the entire product line (don't worry… I will still be offering my existing Wendell August Forge metal ornaments with new additions for the 2017 Holiday season). Therefore, all the ceramic ornaments must go. Selection is limited – some ornaments sold out over the holidays and are already out of stock. For some of the designs, I have only a handful left, while others that I restocked just before Christmas may have many available.
So if there's a ceramic ornament you've had your eye on, CLICK HERE right now and make your purchase.
By the time the Home and Garden Show arrives, there might not be many left, so order now if there is a particular ornament you've been wanting. This is your chance to get one of the last run of these collectible handmade bisque ornaments. All sales are on a first-come-first-served basis, so don't delay! If the particular ornament you want is sold out before your order reaches me, I will call you personally for your second choice.
Speaking of Old vs New…
As you can see I have been hard at work on my new painting of the late, great Hills Department Store! This week I worked on refining the details of the building, and then I started adding the little details that make it magical.

I've been "toying" around with the title (Ha ha, see what I did there?). I decided to call it "Hills Is Where the Toys Are" because I can't get that jingle out of my head! Do you remember the little cartoon elf mascot they had in their holiday commercials? He danced around and told us all about the wonderful toys waiting for us at Hills… then the commercial would end with the jingle. Because I'm sure I'm not the only one who associates that tune with the store, I thought it would be a perfect title for the painting.
The official unveiling will be at the Pittsburgh Home and Garden Show, opening Friday, March 10th at the David L. Lawrence Convention Center. Of course, you're the first to see it as it evolved digitally through my blog from sketch to finished art!
Speaking of the Home and Garden Show… last night I attended the annual meeting for vendors at the Convention Center – Opening Day is just 4 weeks away! I do know that I will once again be front and center in Booth 3146 on the end nearest to the escalators on the second floor. Plan on coming to see me. CLICK HERE to view my Calendar of Events and find out more about this year's Home and Garden Show and other upcoming events.
P.S. – Here's my little granddaughter, Aria, supervising Christmas activities!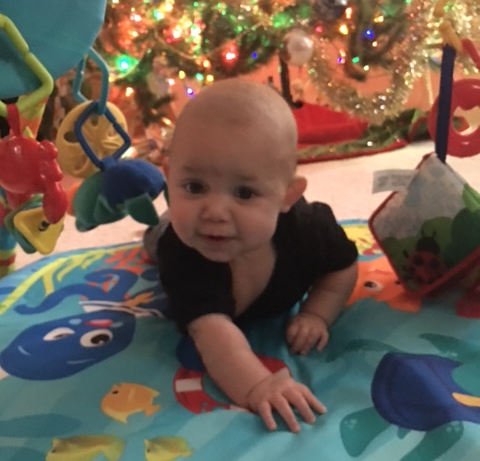 Make sure you are the first to know about all of my news, appearances and any "special deals" I am offering to my subscribers, by taking the time to sign up for my weekly newsletters now. CLICK HERE to sign up. You will also receive a FREE slideshow showing the step-by-step development of my painting, "Celebrating Time and Tradition at Macy's".