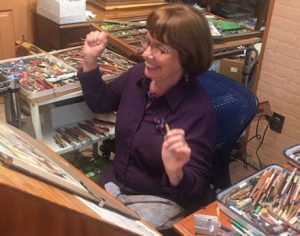 Remember that big painting project I've been working on for the past couple years but haven't been able to tell you about? (Hint: It's the Forbes Hospital History Wall.)
Well, late last week, around midnight, I put the finishing touches on the very last section of the last panel. Then while everyone else in the house slept, I did the Happy Dance! I can't actually share the completed paintings with you yet, as I'm not sure how the hospital wants to present them. But I don't think they would mind if I shared one small piece of it – one of over a hundred miniature paintings in the piece…
And the one I'd most like to share with you is the one that features my husband.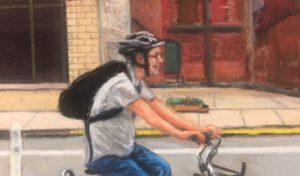 As you know, Tom has a tendency to show up in my paintings; in a way it's a sort of trademark for my work. Kind of like how Alfred Hitchcock put himself in a cameo in all of his movies! This painting is no exception. It was fun posing Tom and making sure he didn't look silly or weird or out of place.
This partial was the final section that I worked on. It seemed an appropriate place to finish, with Tom doing his cameo in the miniature that completes the piece. It reminds me of how he supports me through my entire creative process, from preliminary photos to sketches to finished painting.
Over the next couple of weeks, I'll be dashing from one printer to another, making sure these five panels are as perfect as they can be. Keep in mind that I painted them normal painting size, but the printers will enlarge each panel to 4 x 8 feet!
I'll update you when the day is announced for the big installation at Forbes Hospital. It won't be long before you can walk out of the hospital cafeteria and see the history of Forbes Hospital and all it has meant to the local community, bigger than life.
This past weekend, Tom and I spent some time in Asheville, North Carolina (a place where we've never been before!), for a little R & R.  But now I'm back in the studio, forging ahead on my next project.