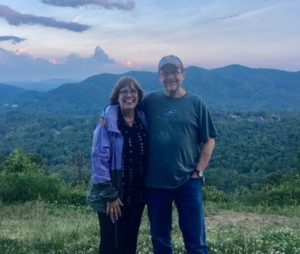 Last weekend, Tom and I went on a road trip to somewhere we've never been before – Asheville, North Carolina, a small city nestled in the palm of the Blue Ridge Mountains.
My #1 impression of Asheville is that it's a city that loves art and honors its resident artists. There is beauty everywhere you look… it seems as if there are galleries and artists on every street! And while the beauty created by the gifted artists of Asheville is amazing, the majestic gifts of nature surrounding the city and its incredible mountain setting are even more inspiring. If you ever have a chance to visit Asheville and the Blue Ridge Mountains, it's the best of both worlds!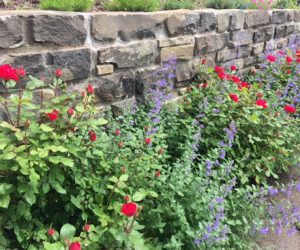 When we returned home, we were pleasantly surprised to see that the flowers in our own humble little yard had burst into bloom. We're thrilled with how our personal little piece of nature is developing.
Last year we worked hard to clear the backyard, and we're still working on the front yard. Of course, we planted many, many flowers. I like to think of my flowers as another manifestation of my art. The colors in my garden inspire me and touch my heart the same way the colors in my paintings do.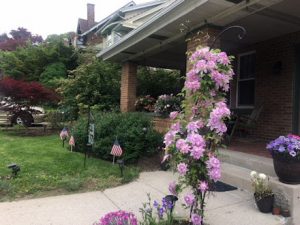 For me, bringing beauty into my life is as much a part of who I am as breathing. Making paintings that brings joy to others is my passion in life. As I continue to work on my summer painting projects, I'll be thinking to myself, "Who will relate to this painting, and what is it about the painting that will speak to them?"
That's my motivation as I work on my new art pieces. I hope things will slow down a bit this summer to give me more studio time. I have a lot of projects planned!
Here's to enjoying a great holiday weekend and good times with family and friends.