So here we are in the first week of October… can you believe we're two weeks into Fall, and it still feels like Summer?  I don't know about you, but I'm ready to bust out my denims and sweaters, put on my farmer hat, and dive into the sensory experience of the wonderful colors and smells of the Fall season.  But Summer just won't give up!  Not to worry though – it looks like we're headed for a change in the weather just in time for my first Fall Festival of the season this weekend.
This Saturday, I'll be at the Harvest Festival at the Sunset Hills United Presbyterian Church at 900 Country Club Drive in Mt. Lebanon (15228) from 9 am to 3 pm.  You can find me at Table #15 in the church. There will be lots to do featuring lots of art and crafts, a Scouts pancake breakfast, bake sale, live music, food trucks and games.  Click here for details.
The final painting in my Jolly Old Elf series, "Santa and His Woodland Friends," is coming along nicely.  As promised, here's a peek inside the process as the painting takes shape.

Notice how the next step after the sketching phase is creating a watercolor underpainting. I do this to give me a map for when I apply the soft pastels, my personal favorite medium. That's when the painting really starts to come to life.  I hope you're enjoying the details so far!
Finally, I wanted to let you know that I've already placed the final order for the limited number of "Shhhh!" throw blankets for the holiday season. We're barely into October, and there are only 22 left!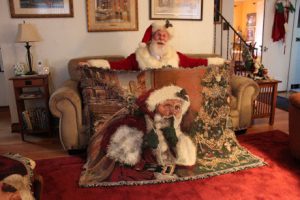 The "Shhhh!" throw, created from one of my most popular paintings in the Jolly Old Elf series, will make your home feel cozy and warm, reminiscent of an old-fashioned Christmas.
Now this lovely limited-edition throw blanket is available for purchase in a custom 100% cotton woven jacquard throw blanket. Each blanket is 52″ x 68″ and created with a multitude of colors and is made here in the USA.
If this is a gift you would like for yourself, family or friends, don't delay.  Again, they're available on a first come/first served basis, and inventory is very limited.  For more details or to place your order, click here.