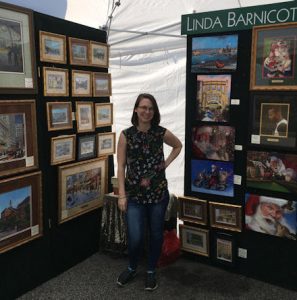 It sure has been a busy week! Last weekend we were on the go non-stop, juggling two outdoor shows. Starting early Friday morning, setting up our booth at the Washington County Covered Bridge Festival, it seemed like we had no sooner put that show to bed than the alarm went off pre-dawn on Saturday morning, telling us it was time to set up for the Mt.Lebanon Artists' Market. I swear I must have lost 5 pounds with all the running around between the two shows! And it didn't help that Summer decided to give us one last taste of heat! But as always, I had a lot of fun.
Once I recovered from the weekend, I was able to give my full attention to my favorite (definitely not summery) project  – namely, the very last painting in my Jolly Old Elf series, my Woodland Santa. This piece has been taking shape in my head for a long time.  I've been doing my homework, taking pictures, trying to get all the elements just right. This is the theme that inspired my Santa series, and it's the one I've dreamed about the most… which is the reason I saved it for last. And now the time has come!
As I imagined and researched the elements of this piece (the working title is "Santa and his Woodland
Friends"), I was thinking about how I wanted to portray all the little critters gathered around Santa, as if he had come to visit and they were joyfully greeting him. I wanted each one to have their own personality, each one delighted to see their friend, the Jolly Old Elf himself.
Here's the very first preliminary sketch, which may change as the painting evolves. Keep an eye out for future emails, where you can follow along with the process as the painting takes shape.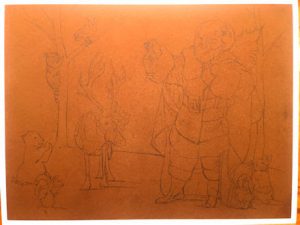 As I work on the final Jolly Old Elf painting, don't forget that the latest completed painting in the series, "Wishes for Santa," is now available on my website. "Wishes for Santa" is #9 in the series and depicts Santa holding court on his fancy throne at Kaufmann's Department Store.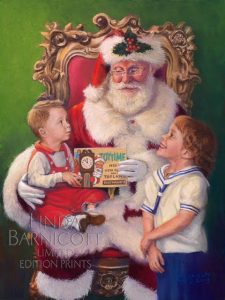 There's quite a bit of history hiding in this painting… not only are the two children with Santa taken from childhood images of a certain artist and her husband, but the suit Santa is wearing was created with the same pattern that was used to make the Santa suits for Gimbels back in the day. And Santa's majestic chair is preserved for posterity and now resides at Heinz History Center. "Wishes for Santa" will make a wonderful nostalgic addition to your home for the holidays… or a perfect gift for any former child who remembers the awe and excitement of that annual visit with Santa.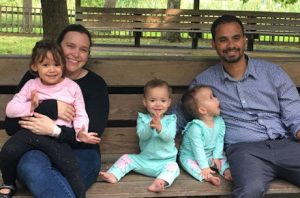 Speaking of children… in honor of National Daughters' Week, I'd like to give a shout out to my beautiful daughters and granddaughters. I am grateful – not just this week, but every day – to have been blessed with such strong, kind and compassionate daughters. They're always ready to help out their mom in a pinch!
I hope you (and the fabulous daughters in your life) have a great week!