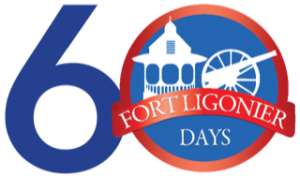 We're into the swing of the Fall Festival season, and one of my favorite shows, Fort Ligonier Days, is celebrating its 60th year. The show starts today, which means last night I was hard at work getting my tents set up and my prints and giftware ready for the big opening. I've lost count of how many years I have had my two tents in the Loyalhanna Lot on South Market Street… it seems like forever.
With plenty of art and crafts, food, historical reenactments, and even a parade and a 5K race, Fort Ligonier Days is one of the best fall festivals in Western Pennsylvania and well worth the drive. Why not take a day trip, enjoy the lovely fall weather and come up and see me?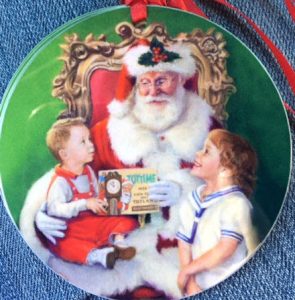 The latest painting in my Jolly Old Elf series, "Wishes for Santa," is now available as a color metal ornament. I'll have the first 10 ornaments with me at the show this weekend, and I'll have prints of the painting available as well. There will be lots of new merchandise to see at my booths (#16 and #17), so come out and have a look. Fort Ligonier Days starts today, Friday, October 11 and runs through Sunday, October 13. Hours are from 9 am to 6 pm Friday and Saturday and Sunday from 10:30 am to 5 pm.
For more details about all the weekend's festivities, visit http://fortligonierdays.com/
This weekend, Fort Ligonier Days is celebrating its 60th anniversary, but it's also a very special weekend for Tom and me – Friday, October 11th is our 39th wedding anniversary!
I hope you'll stop by and say hello and help us celebrate this double anniversary weekend!
P.S. – Here's the latest progress on "Santa and His Woodland Friends." The details are coming together!