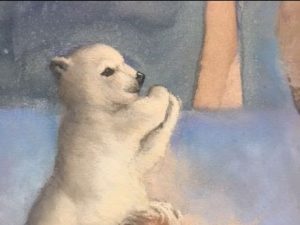 Why am I celebrating today? Because I just put the final touches on my new Woodland Santa painting! I can't wait until next week to show it to you… you will be some of the first to see the finished painting (though just a few days ago, the Jolly Old Elf himself stopped by to see how it was coming along!).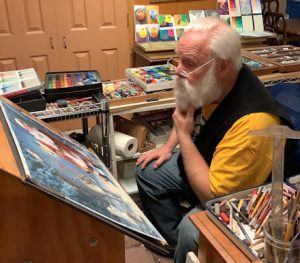 It's funny how my mind gets laser-focused when I'm painting, and trivial matters – like housework, shopping, paperwork and such – get put on the back burner. So today I'll start the process of catching up with "Real Life."  In other words, it's time to start focusing on the upcoming holiday shows that are just around the corner (and maybe even throw in a load of laundry).
Can you believe November is only a week away?  My first holiday show will be on Saturday, November 2nd in Bethel Park at the John McMillan Presbyterian Church "Christmas Affair" from 9 am to 3 pm.
Then on Saturday, November 9th, I'll be exhibiting at the Bethel Presbyterian Church "Holiday-A-Fair" from 9 am to 3pm.
Last year's Open House/Holiday Trunk Show experiment turned out so well that I've scheduled another one for this year, this time in my new home in Brentwood. Mark your calendar for the weekend of November 15th… details to follow!
And then there's The Big One… PDP's Holiday Market in Market Square, where I'll be hanging out (with my big space heater) in my Chalet from November 21st to December 23rd. This year we are also participating in Handmade Arcade (same location) from December 28th to the 31st.
For me, one of the highlights of the holiday season is talking to out-of-town visitors who happen by, curious about what's in the Chalets… not to mention the local folks who bring their family and friends who are home for the holidays.  The Holiday Market is a wonderful new Pittsburgh tradition with something new to see every year.
So update your calendar and make your wish list… and I will see you soon!