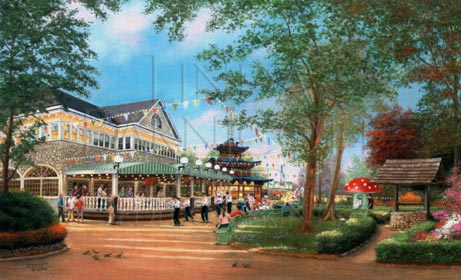 I've had a whirlwind week getting ready for the big day!
Our church will be doing a "Reverse Trick or Treat" this weekend. Basically, we older folks will go from door to door, but instead of receiving a treat, we'll actually GIVE one, courtesy of our friends at First Bethel UMC. The treats will include candy (of course), a note, and one of my notecards, personally signed by me. It's a fun way to let our neighbors know we care.
The notecard that will be included in the treat bags features my painting, "Celebrating Kennywood's Fall Fantasy." So today, when I started thinking about a fall memory to tell you about, I remembered the story behind that painting.
Like my family and many others, you may have discovered that the porch around the cafeteria is one of the best vantage points where you can watch the Fall Fantasy Parade go by. Many of the people depicted in that painting are actual employees who were on and around the porch. In fact, I also painted my daughter, my sister, and my Dad looking out at the parade, and if you look closely, you will see Tom and my younger daughter Alyssa getting a drink from the mushroom water fountain.
I also made it a point to include the Wishing Well in this painting because I made a wish by throwing a shiny quarter into the well on my first Pittsburgh date with Tom. My wish was that he would propose to me! And the rest is history…
I placed the historic Pagoda and the old games arcade in the background because they're symbols of Kennywood, and I knew they would make a good backdrop. To avoid controversy, I chose to paint the Kennywood Band for the marching band in my painting. I knew I couldn't choose a particular school band to paint because I would have been in hot water with all the other schools! So it was my safest bet.
I hope I've helped you remember Fall Fantasy memories of your own through my painting. CLICK HERE to learn more about the painting.
However, this week, I wasn't just celebrating Halloween – if you're a regular reader, you may have noticed that I'm already working on Christmas!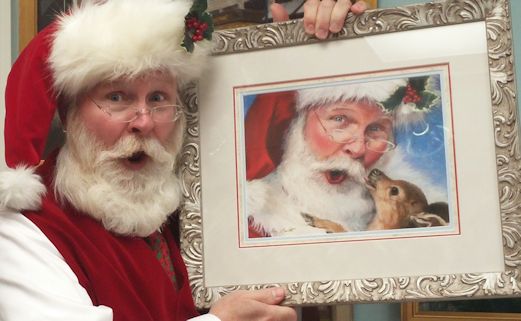 In fact, Santa and I made another appearance together last weekend, this time at the Arte of Framing with Debbie Assad. She is a great person and a great framer, and we had quite a busy, exciting time there on Saturday. Santa was, as always, his Jolly Old Self… posing with clients, singing to children, and even signing a few pieces. Debbie has more of my work available for sale, so if you're in the Monessen area, please stop by!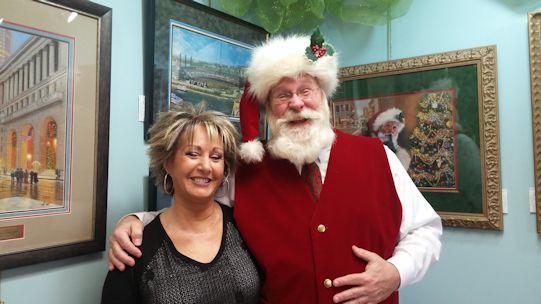 P.S. – Don't forget to order your "Shhhh!" Christmas Cards available in the Note Cards for Sale section of this site. The message inside reads "It is no secret you will have a Magical Christmas!" And there's a sweet story on the back of every card! The cards are 7″ x 5," packaged in boxes of eight for $24.00. Quantities are limited and they are selling fast so order yours today!
Make sure you are the first to know about all of my news, appearances and any "special deals" I am offering to my subscribers, by taking the time to sign up for my weekly newsletters now. CLICK HERE to sign up. You will also receive a FREE slideshow showing the step-by-step development of my painting, "Celebrating Time and Tradition at Macy's".