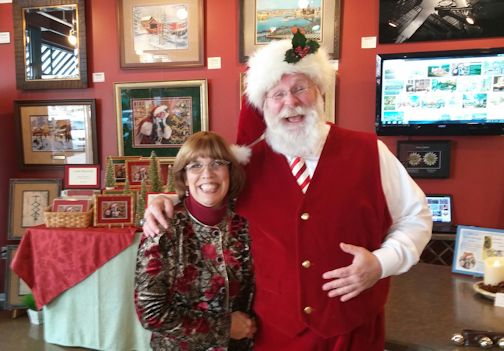 As I get ready for another fast-paced, show-filled Holiday season, I'm planning out the details of my jam-packed November/December schedule. It seems like just yesterday I was finishing up at the Market Square Chalets, and here I am stocking my shelves, ordering more packaging, and organizing my calendar for the 2015 holidays. Somehow the season is already upon us! Check out my "Calendar of Events" to find out more about my busy holiday schedule.
Of course, the season has an early start for me because I have to prepare for shows, build up my inventory, and set up artist meet-and-greets to promote my work… not to mention actually getting some painting done! But this year, even Santa is off to an early start as he's been taking a break from his own busy pre-holiday schedule to appear with me around town.
I have been very blessed to have had Santa as my artist's model! It was such a pleasure to paint him. He's very nice in person, especially for such a big celebrity. In fact, if I had a naughty and nice list myself (and I'm not saying I don't…), Santa would definitely be at the top of the nice list.
Because Santa is such an all-around good guy, he left Mrs. Claus in charge and took time out from his workshop duties to help me out on a recent Saturday afternoon. He joined us at the Courtney-Laughlin Gallery in Beaver, jump-starting the holiday spirit, greeting guests, and even putting his own signature on the prints that customers purchased that day. He was his Jolly Old Elf-Self – in fact, at one point he even stopped traffic to allow a child to cross the street!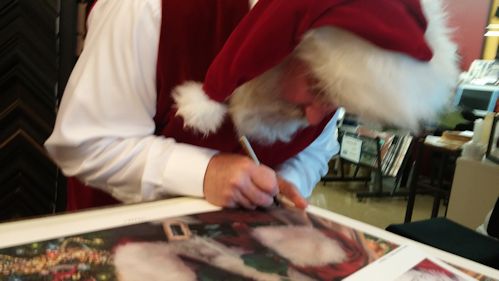 And since he had such a fun time with me, Kathy and Jamie, and our guests at the Courtney-Laughlin Gallery, he decided to take a little more time away from toymaking for another special appearance! Santa also payed a visit to The Arte of Framing in Monessen this past Saturday. He got busy right away, sharing holiday cheer and giving out signatures to his many fans.
P.S. – Don't forget to order your "Shhhh!" Christmas Cards available in the Note Cards for Sale section of this site. The message inside reads "It is no secret you will have a Magical Christmas!" And there's a sweet story on the back of every card! The cards are 7″ x 5," packaged in boxes of eight for $24.00. Quantities are limited and they are selling fast so order yours today!
Make sure you are the first to know about all of my news, appearances and any "special deals" I am offering to my subscribers, by taking the time to sign up for my weekly newsletters now. CLICK HERE to sign up. You will also receive a FREE slideshow showing the step-by-step development of my painting, "Celebrating Time and Tradition at Macy's".