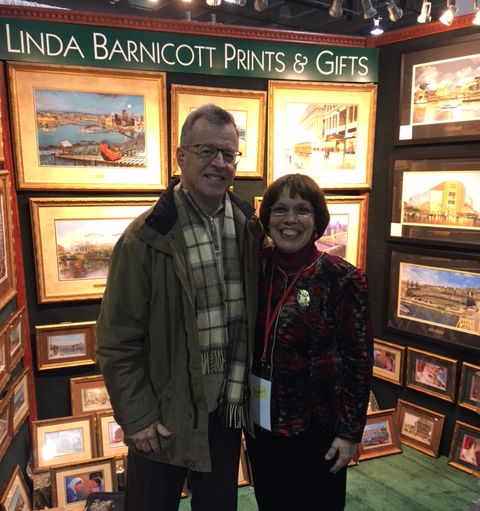 Despite the freezing temperatures and occasional snow, Spring is not that far away. Punxsutawney Phil tells us we have six more weeks of winter, but we Pittsburghers know that Spring officially arrives with the Home and Garden Show!
This year, however, we were lucky enough to have another great show to tide us over until the Home and Garden Show (March 10-19) and help us Think Spring…
Last weekend I exhibited at a brand new winter event, "Pittsburgh's Travel Showcase," at the David L. Lawrence Convention Center. I was the only artist there, so of course some folks were curious about what art had to do with a travel expo.
I explained to them that, like remembrances of trips and vacations, it's all about the memories. By painting Pittsburgh locations, I express my passion for connecting with people and reminding them of warm, fuzzy memories through my art. Pittsburgh landmarks figure into so many of our "Porchville" vacations, places where we've found fun, rest, and escape from our everyday lives. So even though I wasn't selling travel exactly, I was offering something similar – a visual reminder of precious times in our own beautiful city.
As you can see in the photo at the top of the page, I also had a chance to catch up with KDKA's Larry Richert. He actually gave me my first sale before I even opened up on Friday!
The minute the show was over, however, I couldn't wait to pack up my booth and get back to what I do best – painting! This week I've been working on placing the people in my new Hills painting and using watercolor as an underpainting. Adding that color helps establish the mood of the painting and gets my brain synapses going so I can put what I've been visualizing on canvas. After a short break to give a talk at the Bethel Park Art Guild this week, I got right back to work at my easel with my soft pastel chalks.
Here's a recap of the creation of the Hills painting so far. Of course, it's a work in progress, so there will be more to it than what you see below!

Do you have your own fond memories of shopping at Hills Department Store back in the day? If you'd like to own a print of this painting, just let me know, and I'll add you to the list.
As I mentioned earlier, the Pittsburgh Home and Garden Show is just a few weeks away, and I'm already getting my ducks in a row. Here's a teaser (you're the first to know!) – I'm going to be closing out a certain item at this year's show with a huge sale for show attendees, but also a presale for the subscribers of my weekly email newsletter. I'll announce it as we get closer, and I can reserve one for you before the sale is available to the public in March. If you want to be notified about this special sale but are currently not a subscriber, CLICK HERE to sign up.
So in the meantime, stay warm and dream of the Home and Garden Show… that groundhog is overrated!
CLICK HERE to view my Calendar of Events and find out more about this year's Home and Garden Show and other upcoming events.
Make sure you are the first to know about all of my news, appearances and any "special deals" I am offering to my subscribers, by taking the time to sign up for my weekly newsletters now. CLICK HERE to sign up. You will also receive a FREE slideshow showing the step-by-step development of my painting, "Celebrating Time and Tradition at Macy's".