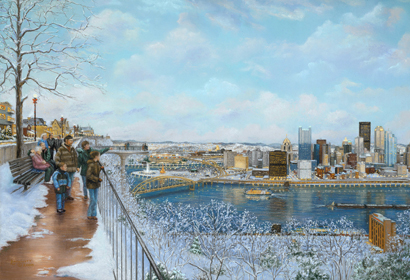 In only two short weeks, I'll be celebrating my 20th year as an exhibitor at the Pittsburgh Home and Garden Show. Looking back over all those years, I can honestly say every year has been good, and some I would even call great! Some years I've unveiled new paintings, and some years I took preorders for paintings that were yet to come. I've even sold out of many editions while exhibiting them during those 10 busy days at the Home and Garden Show.
Most of all, I like to remember the many friends and fans I've met there, and how quite a few of them actually started collecting my artwork from that show.
So naturally, as I was preparing for the show this week, I've been thinking about you, my subscribers. The people who read these blogs week after week, follow what's new here in my studio, watch my paintings develop as I paint them, and hear my stories about them. I've decided to make a special offer to you, my most loyal fans – the opportunity to acquire the last of several editions before they're sold out.
This year, I'll be bringing four special prints to the Home and Garden Show. These prints are the last of their kind. There will be no more.

"A Holiday Tradition" – I'm bringing just two of these prints to the show. They are both artist-enhanced with pastels of Joseph Horne's. One is being framed now, and the other will be unframed. These two prints are the very last of the entire edition.
"Hockey Fever at Mellon Arena" – Only eight prints of this artist-enhanced series are still available. One is being framed now, and seven will be unframed. These also are the last prints of the entire edition.
"Mazeroski's Magical Moment" – I actually unveiled this painting at a previous Home Show, and it has always been special to me. Only 75 prints remain of the entire edition, each one signed by the great Maz himself!
"A Grand View of Pittsburgh" – From the entire edition of 500, less than 30 lithograph prints remain. It portrays the experience of people friends and family up to Mt. Washington. This is the end of the lithograph edition.
Are any of these prints on your wish list? If you've been thinking of adding one to your collection, please contact me in advance of the show, which begins on March 6th. I'll be out of town next week, so if you'd like to reserve one of these prints before they're offered to the public at the show, please call my cell (412-722-9413) or shoot me an email so I can set one aside for you.
Make sure you are the first to know about all of my news, appearances and any "special deals" I am offering to my subscribers, by taking the time to sign up for my weekly newsletters now. CLICK HERE to sign up. You will also receive a FREE slideshow showing the step-by-step development of my painting, "Celebrating Time and Tradition at Macy's".