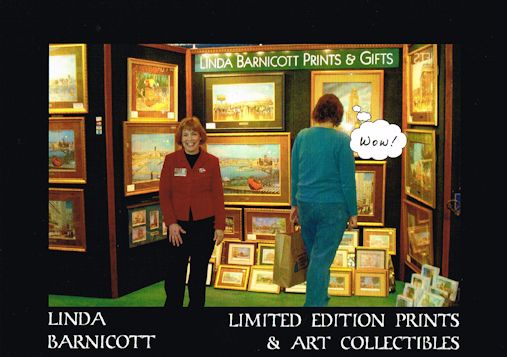 Can you believe it's going back down into single digits again this week? I guess that's what you get when they let a stupid rodent predict 6 more weeks of winter weather!
I know I'm really tired of the snow and ice and cold temperatures by mid-Feburary, and I'll bet you are too! Luckily, I have a surefire way to cure my winter blues by getting ready for the Pittsburgh Home and Garden Show. All my show preparations remind me that Spring is just around the corner – from ordering the U-Haul to writing the checks for my booth carpeting and electrical service, to ordering my framing and giftware. Because I know that in a couple short weeks, I'll be surrounded by signs of the coming season.
I'm proud to say that 2015 marks my 20th anniversary as an exhibitor at the Home and Garden Show, but I'll never forget my first time all those years ago! Back then, the show was held in the old convention center, and my booth was on the second floor. Other artists and galleries were located on the third floor, but I'd heard it on good authority that folks often never made it up to the third floor, and if they did, by that time they were tired and grumpy!
So I requested my space on the second floor… which means I was placed right there between windows and bathtubs. That just meant I had to work extra hard to get the people who were looking at home improvements to notice me! Sometimes I would even dance in the aisle to attract people to come over and see my booth.
The result was that I had fun and learned a lot about the ins and outs of exhibiting in a big show. It was my first experience as an artist meeting so many people in a short period of time, and it was a life-changing experience for a young artist out on her own. I fell in love with the show, and to this day, it's my favorite show of the year.
As I mentioned, the 2015 Home and Garden Show is extra special to me, as it's my 20th anniversary year. So get ready – I'll be making a Super Special Home and Garden Show offer for my favorite clients (that would be YOU!). Save the dates – March 6th through the 15th – and come visit me at Booth #3146-3148. Let's see if we can defy the groundhog and bring spring back to Pittsburgh a couple weeks sooner!
Be one of the first to hear about my Super Special Home and Garden Show offer for my favorite clients by taking the time now to sign up for my weekly newsletters now. As a subscriber you will receive information about all of my appearances, my latest paintings and special offers only for subscribers! CLICK HERE to sign up. You will also receive a FREE slideshow showing the step-by-step development of my painting, "Celebrating Time and Tradition at Macy's".