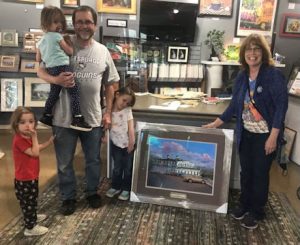 Since we last talked, I've had quite a busy, fun, and eventful week… with a few surprises along the way!
First, I added the enhancements to my artist-enhanced giclee prints of "Lincoln Highway's Historic Ship Hotel" and brought them to my framer (Lee Heckman Gallery in Mt. Lebanon).
Then on Tuesday, Tom, my grandgirls, and I drove out to Beaver to the Courtney-Laughlin Gallery and Frame Studio, to pick up the original painting now that it's framed and ready for my customer. I just had to get a photo of Tom and the girls with the painting… especially considering they were already painted into it! The pastel original looks beautiful in its new frame, and it will soon be proudly displayed in its forever home.
Afterwards, we decided to have a spontaneous picnic in the park nearby. The girls loved running around in such a big space. It truly was a perfect day for an adventure!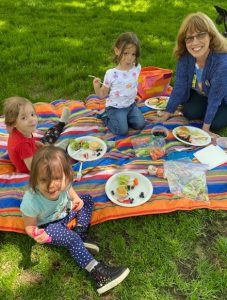 Speaking of surprises… getting out in the world again has been exciting in so many ways. For one thing, you never know who you're going to meet!
Remember the couple Tom and I visited last week at Raystown Lake (my oldest and dearest friends)? They recently were talking with another friend who just happened to be from the same marina in New Jersey where I grew up. What a coincidence, right? They mentioned me, and she checked out my website right before Mother's Day. She was looking for the perfect gift for her mom, who lives here in Pittsburgh and is a huge Penguins fan.
She mentioned that, like most mothers, her mom always tells her children not to worry about buying her gifts. And of course, like most loving daughters do, she ignored this and was looking for a special Mother's Day gift that she was sure her mom would like.
So after I asked a lot of questions about her mom's interests and tastes, we put together a wall grouping with "Pittsburgh's New Home for Hockey" and two borderless 8″ x 10″ mini prints of Sid Crosby and the old Mellon Arena. Because her mom is local, and I prefer not to ship framed pieces, I offered to hand-deliver the prints once they were framed and to sign the glass in gold for her.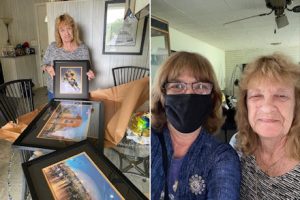 It really felt good to be involved in this lovely surprise. When I delivered the prints to my customer's mom, we talked for at least an hour, and she showed me all the beautiful artwork in her home and her impressive collection of Penguins memorabilia. Before our visit was over, we had already decided on the perfect spot to display her new pieces.
I'm looking forward to getting the results from my survey on Friday. I can't wait to share it with you next week! If you responded to the survey, don't forget to use your discount code to take advantage of your 10% off any online order. A gift that brings back treasured memories (and that I will happily personalize) is perfect for a graduation, birthday, or anniversary.