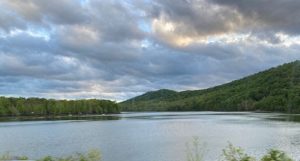 After over a year of COVID isolation, who isn't ready to just pack a bag and get away for a little while… but still maybe a little anxious about getting back out into the world? That was the case for Tom and me last weekend. Though we're now fully vaccinated and reasonably safe, we were still cautious about our visit to Raystown Lake. So we rented a cabin and didn't interact much with anyone but our dearest friends (also fully vaccinated), whom we hadn't seen since 2019.
Our cabin was very rustic – just a step up from camping. This was quite new to us, as Tom's idea of roughing it is when the Holiday Inn is in the woods. We didn't even have heat, and of course, it was pouring rain and freezing out there all weekend. However, it wasn't something two space heaters and an umbrella couldn't handle!
It was all worth it for the wonderful memories we made… and as you know, memories are what I'm good at!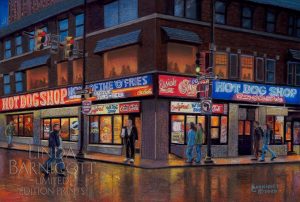 Speaking of memories, yesterday was a sad day for fans of the Original Hot Dog Shop in Oakland. With the last of the O signage taken down, new students arriving in the fall will never recognize that building as a place that was always jumping, filled with laughter and comradery. And of course, they'll never experience those famous hotdogs, accompanied by what was probably the biggest serving of fries the world has ever known.
Were you one of those happy students or Oakland workers who look back fondly on good times at the O? Now you can relive those moments with my painting, "Remembering the O."  If you look closely, you'll see Rick Sebak – a man who really knows his stuff about Pittsburgh dining – walking out with his big bag of leftover fries. The print is an archival giclee open-edition ($85.00) and would make an ideal gift during this graduation season.
Once again, I'd like to thank everyone who has completed my brief survey to help determine the direction my product line will take in the coming year. Your time and your thoughts are much appreciated, and by filling out the survey, you're helping me bring joy to others.
If you haven't yet completed the survey, just follow the link in the P.S. below and enjoy a savings of 10% off your next online order.
Also, while you happen to be on my homepage, check out our new look!
Have a great week!
P.S. – Again, here's the link to the survey. Just answer five easy questions to get 10% off your next online purchase!
https://www.surveymonkey.com/r/HZJN6CN