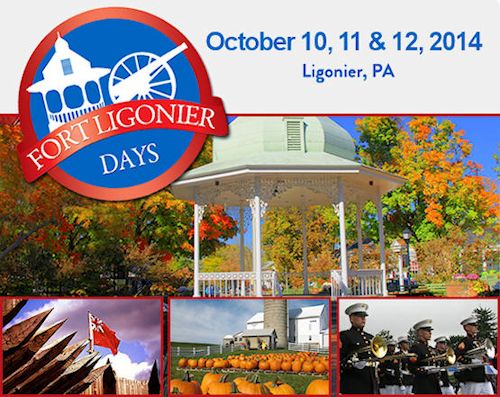 Sometimes we forget that about 20 years before the American Revolution, another war was fought right here in Western Pennsylvania.
England and France fought the French and Indian War (where a young George Washington got his first military experience) for control of the land west of the Alleghenies. So of course, Fort Duquesne at the Three Rivers was a prime target. Because Fort Ligonier was the closest British supply post, the French attacked it on October 12, 1758. The British victory on that day is now commemorated every year with Fort Ligonier Days.
This is my fifth year exhibiting at Fort Ligonier Days on this beautiful hilltop in the Laurel Highlands. Not only is it thrilling to see the historic buildings and exhibits taking us back to the time when King George III was in charge, and the British flag flew over Pennsylvania, but it's a wonderful time of year to experience the brilliant fall foliage and enjoy a drive in the country.
It's also a perfect time to come visit me at this year's festival and be among the first to purchase your 2014 Wendell August Forge ornaments. For those who actually come to my booth, I'll sign and date every ornament purchased. And of course, I'll have all of my new 2014 paintings available for purchase as well as mini matted prints and frames, and larger prints to decorate your home or to be gifted to loved ones. Not to mention my full line of giftware, including magnets, mugs, note cards, and other ornaments.

My booth is in the Loyalhanna Lot (Booth #16/17). I hope you'll come see me at Fort Ligonier Days this weekend… it will be worth the trip!
PS – You're also invited to my Artist Reception at the Courtney-Laughlin Frame Studio and Gallery in Beaver on Thursday, October 16th from 5 to 8 PM. It's part of Beaver's "Third Thursday on Third" festivities and includes my latest creations as well as live entertainment. CLICK HERE to check my Calendar of Events at for more details.
Why not take the time to sign up for my weekly newsletters now. As a subscriber you will receive information about all of my fall and holiday appearances, my latest paintings and special offers only for subscribers! CLICK HERE to sign up. You will also receive a FREE slideshow showing the step-by-step development of my painting, "Celebrating Time and Tradition at Macy's".