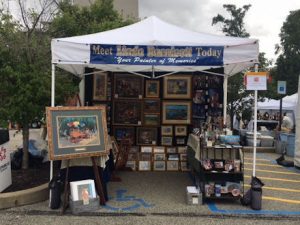 No sooner did I get back from my relaxing week down at the shore than it was time to get ready for this weekend's shows… especially as I have two shows running simultaneously this weekend! Since I can't be in two places at the same time, it's a good thing I have Tom to represent me.  He's the next best thing to a clone!
On Saturday, I'll be at the beautiful Ebenezer Covered Bridge in Mingo Park as part of the Washington County Covered Bridge Festival.  Over 70 artists will be showing their creations, and there will be handmade crafts, live entertainment, historical re-enactments and homestyle food, as well as plenty of activities for kids.
On Sunday, I'll change venues to the Mt. Lebanon Artists' Market on Washington Road.  Again, Tom will be where I am not. Thank heavens for his helping hands… and that his Sundays are free now 🙂
The weather forecast is predicting a gorgeous fall weekend… sunny and pleasant and with a 100% chance of great art, crafts and food! Come on out and enjoy the good weather while it lasts – and maybe even start your holiday shopping early.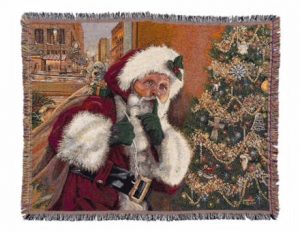 Just a quick reminder – my "Shhhh!" Santa Blanket is currently available for pre-order. This lovely 100% cotton throw blanket is priced at $99.50. They will be delivered in plenty of time for the Christmas holidays.
A limited number of blankets will be made, and when they're gone, they're gone. Until then, they're available on a first-come, first-served basis. Don't miss out on this unique, cozy throw, sure to become a family favorite.
So… I saved the big news for last!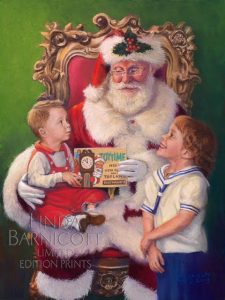 I'm proud to present my latest painting in the "Jolly Old Elf" series (#9), "Wishes for Santa," which is being released today.  If you've been following the last couple weeks, I've described the story of how the painting was created and how it progressed over time.  It's available as a 9 x 12″ print here.
Now check this out…
The first 28 customers who order "Wishes for Santa" will receive a genuine historic pin from Santa's own collection.  These are the pins that he actually gave to the children who visited him when he held court at the department store!
"Wishes for Santa" makes a great Christmas wall decoration for your home or as a gift for someone special!  Order yours today… I'll even sign it in gold!
PS – The Washington County Covered Bridge Festival runs from Saturday, September 21 through Sunday, September 22 at a number of beautiful and/or historic locations in Washington and Greene Counties. (I will be at the Ebenezer Covered Bridge in Mingo Park.) Visit their website for locations and more details – https://www.visitwashingtoncountypa.com/downloads/CBF-PDF-for-website.pdf
The Mount Lebanon Artists' Market is also on Saturday and Sunday, September 21 and 22, in the Academy Avenue parking lot just off Washington Road in Mount Lebanon. https://mtlebopartnership.org/events/mount-lebanon-artist-market/