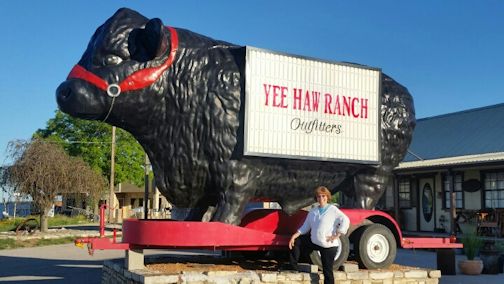 Howdy, it's Linda… Here we are in the Lone Star State, enjoying this beautiful piece of our wonderful country. I envisioned rocks, dessert and cowboy boots, but instead we're seeing densely lush rolling hills and the beautiful cities of Austin and San Antonio. We're seeing quaint old-fashioned small towns, and we're seeing modern cityscapes. Above all, we're seeing outsized Texas-style welcoming hospitality. Not to mention extremely large cattle, like the one in this picture!
We're having a wonderful time this week visiting what they call the Hill Country of Texas and enjoying a perfect view of Canyon Lake. Yesterday we drove up toward Austin and ventured into the Lady Bird Johnson Wildflower Center. My first thought was, "Wow, I wish I had brought my pastels!" There were vast fields of wildflowers dotted with beautiful blues, yellows, oranges, and pinks. There were grasses swaying gracefully in the wind. And in the distance, there was a tree of unique character, standing amidst all the other trees, yet standing out boldly alone in the sea of color. At that point, I was off in my own little world, wondering how I could paint this scene to bring out those vibrant colors. A photograph just can't capture colors the same way that your eye does. And how could I strengthen that tree with light and shadow to give it a strong presence in the painting?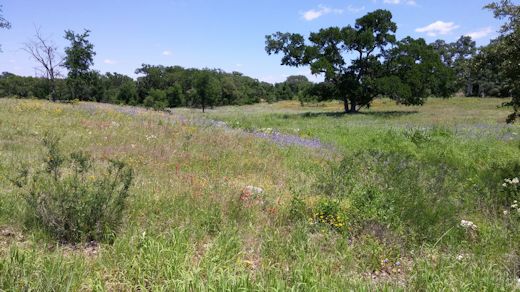 One of these days, I think I'll bring back that memory, and then there will be more than just a photograph to get lost in. Maybe then I'll create a pastel painting that will delight your eyes with color and relax your mind with tranquility.
This is the reason I have been falling in love with the plein air technique of painting landscapes – you see so much more in person. Then as an artist, you can use your discretion about what to use and what to leave alone in your paintings.
I'm looking forward to telling you more about our adventures deep in the heart of Texas! Until next week…
P.S. – Come visit me at the Shadyside Arts Festival on May 30th and 31st on Walnut Street. There will be two festivals this year, spring and summer, with the second show being the end of August. I'll have many of my landscape originals there as well as my Pittsburgh scenes. Check my calendar for more details then mark your calendars!
Make sure you are the first to know about all of my news, appearances and any "special deals" I am offering to my subscribers, by taking the time to sign up for my weekly newsletters now. CLICK HERE to sign up. You will also receive a FREE slideshow showing the step-by-step development of my painting, "Celebrating Time and Tradition at Macy's".