This week was Graduation Day for my first five-week pastel class! Though I'm proud of my wonderfully talented students, I'm sorry our time together had to end. It was a real privilege to work alongside such creative people!
We had a lot of fun together throughout the five weeks of the series. We celebrated our final class in style, enjoying beautiful background music from the very talented Ron Bernhardy at the piano. Funny, but it seemed that everyone enjoyed painting even more with the live music, and I think they even painted faster! In my opinion, the music inspired them to even greater creative heights.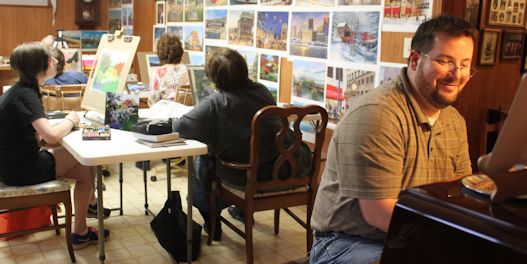 All the students in the class were new to pastels, so for each of them the learning process was both a challenge and a journey. During the course of the program, they came to love the medium and were all justifiably proud of their work. New friendships were forged, and beautiful art was created. Best of all, it was so gratifying to me to see their growth as artists, I'm thinking about when I can schedule another series of classes. A big thank you to my wonderful students!
Check out this great testimonial from one of my students!
"First, thanks for the 5 enjoyable evenings! I appreciate the techniques I'm beginning to understand thanks to you.
I knew I had a long distance to go, and I still have a lot to learn, but the skills you taught us will help a lot. Being with my fellow students was so enjoyable… it was a therapeutic time for me!
Thanks for having the class and motivating me to move on with my painting. I hope you'll be considering more classes in the future."
I've been super busy lately, so I'm looking forward to some much-needed time off. I will be leaving on Friday for a two-week vacation in San Antonio and Austin, Texas. I hope to get some serious R&R on this trip, but just in case, I'll be bringing some art supplies along! I love the wide blue Texas sky and the scenery that's so different from what we have here in Pittsburgh. Who knows? I just may find the time to do a little sketching! I will definitely share some photos of my artistic adventures in the Lone Star State.
I'll do my best to rest up during this trip, because when I return, it will be time to kick into high gear getting ready for the summer show season! When I get back, I'll have more to tell you about where I'll be exhibiting this summer. Better yet – I'll be ready to reveal my newest painting!
Make sure you are the first to know about all of my news, appearances and any "special deals" I am offering to my subscribers, by taking the time to sign up for my weekly newsletters now. CLICK HERE to sign up. You will also receive a FREE slideshow showing the step-by-step development of my painting, "Celebrating Time and Tradition at Macy's".