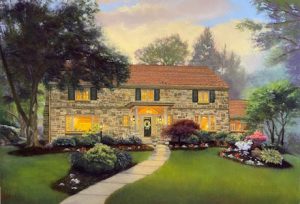 After a long time away (and a long-needed clean-up), it felt good to finally get back to my studio this week!  The first order of business was to finish some commissioned pieces that have been waiting for my attention. I don't take on commission work very often, but during the pandemic, it's been a fun and productive way to keep busy.
This week I was working on a house portrait (when I told this client, "I'll paint your house," I wasn't kidding!). I had originally promised to deliver it first thing in 2020. Then I promised to deliver it in 2021. And you can imagine how that worked out! I can't show it here, as the client has not yet seen the finished painting, but I can share with you two other commissioned pieces that I finished last year.

The first painting is a portrait of a home in Mt Lebanon. This stately stone home is a real beauty, and I added lighting effects from the sky and lamplight to give it a romantic, warm, and cozy feeling. Take a look at the large front left window, and you'll see the silhouettes of their four beloved cats. I truly enjoyed painting this piece. As always, the original looks a lot better in person, as you can see the depth of the pastel.

Continuing on the cat theme, the second painting is of Saturn, a well-loved rescue kitty who is an important part of my client's family. To be honest, the original photo was amazing and made my job very easy. As a portrait artist, my favorite part of this piece was painting the kitty's eyes. Another part of this painting that I loved creating is the reflected candlelight on the back wall.
Again, I don't often take on commissions, but I'm always open to the right one when it comes along. I always strive to create a personalized painting the client will treasure and be proud to display in their home.
But I didn't actually spend the whole week in front of my easel!  Yesterday I was able to get together with a friend for a lovely breakfast at Panera Bread in the Galleria in Mount Lebanon. It was such a treat just to be able to catch up with Bob (who happens to be a professional financial advisor), and spend some time face to face.
After my breakfast with Bob, I was able to catch up with another friend, and the first thing she said to me was "So, are you getting ready for the Home and Garden Show?" And of course, I replied "Yes!"
It seems like it was so long ago when the last Pittsburgh Home and Garden Show in March 2020 was cut short after eight days due to the worsening pandemic. So needless to say, I'm super excited about starting fresh this year.
With more frosty weather predicted for this weekend, sometimes it seems like Spring will never get here. But getting ready for the Pittsburgh Home and Garden Show – less than six weeks away! – makes it feel as if Spring is just around the corner.