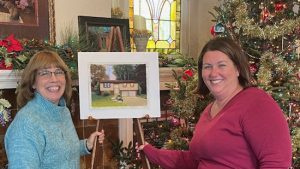 Another week, another happy customer!
I couldn't wait to get back to my easel after the holidays and especially after all that organizing.  I've been working on a commission piece that's been in the works since before the holidays. It's always helpful when customers are really great about working with your schedule!
One of the good things that came out of this pandemic (and there were not many of them!) has been getting back to taking on some commission work. I can't tell you how many years I didn't accept commissions – I was too busy creating my Pittsburgh, Kennywood, and Santa series, not to mention exhibiting at so many art shows. My wide open schedule in the last two years has allowed me some time to accept more personal projects.
The families I've worked with are nothing short of amazing; they've made the whole process even more fun.  When Maureen and her son Connor sold their home and moved away last year, she decided that a great way to remember their beloved home would be to preserve it forever in a painting. This week, Maureen and Connor came over to pick up the finished piece. When Maureen walked into my living room and immediately saw it on my easel, she exclaimed, "It's beautiful!"
Creating this painting was a bit challenging, in that I never actually saw the home in person. As we discussed the composition, (which would be entirely based on the photos we were working from), we realized there would have to be some changes.

For example, I knew right away the bush in the front yard had to go. We also chose to get rid of the railing and the basketball hoop. We decided to give the painting an autumn setting in order to add interest to the trees. Before she sold the house, I had asked Maureen to turn on the lights to give a warmer look and mood to the painting, and I added a reflection on the lawn cast by the lights. Finally, I added a few flowers to the urns and the planter based on the kinds Maureen used to plant.
We had a lot of fun sharing our stories, and I had a big smile on my face for their entire visit. They were truly delightful folks!
So what's up next for me? Since then, I've started a new painting that I hope to finish in time for the Pittsburgh Home and Garden Show. It's basically just a smaller 9 x 12″ piece of Mellon Green, right on Grant Street across from the William Penn Hotel. It's not Mellon Park on top of the garage, but a sweet little park with a fountain that is also across from the U.S. Steel Building.  In case you're wondering, it's a springtime painting full of flowers and blossoms. I don't know about you, but right now I'm kinda tired of winter scenes. It's quite the change… now let's see if I can pull it off!