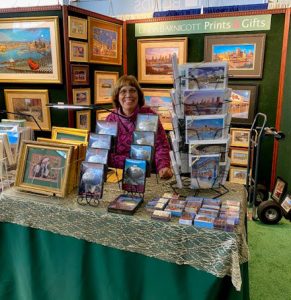 Each and every painting I have at this year's Home and Garden Show tells a story. And there's also the saying that a picture is worth a thousand words. Both are true, whether it's a picture of a memory of growing up in Pittsburgh or perhaps a place you visited on vacation.
I'm bringing a number of my original paintings to the Home and Garden Show this year – about 20 soft pastel paintings with rich, radiant colors and a depth that can only be appreciated when seeing an original in person.
We realized today that we needed more paintings, so I'm preparing three more to take with us in the morning. The photo above shows just a few of my original paintings that will be displayed and available for purchase at my booth. In fact, we're still selecting artwork for the booth. It may be a bit last minute, but I feel like it's really coming together!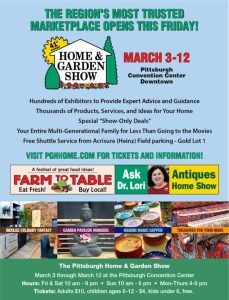 After weeks of work, it's finally SHOWTIME! The show starts tomorrow, Friday, March 3rd, and as always, you can find me in Booth #3146. This year, I'll have a full 9 x 30-foot display – that's 10 feet bigger that last year! And it's filled to the brim with my paintings, prints, and gifts.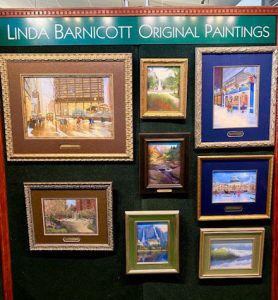 This post wouldn't be complete without a shout-out to my amazing family – they've been so patient with me and so very helpful. I couldn't possibly do this show without them. I believe I speak for all the Barnicotts when I say that we're all super excited for it to begin!
Here's an easy way to find me once you're in the Convention Center – when you go up the escalators, look for the Letter "A" above the doors to the exhibit floor… just go through, and I'll be right there!
Do you have a special birthday, anniversary or other occasion coming up? Let me help you make it special! I'll have my gold and black pens available for signing your art purchases, and I can also personalize your piece.
March 3rd through March 12th, you can take 25% off selected lithographs at the show. That includes paintings like "Let's Go Bucs at PNC Park," "Remembering Roberto Clemente," my Kennywood series, and many of my paintings of our city. (Does not include giclée prints.) Look for the dots that say 25% off!
Can't wait to see you at the show!