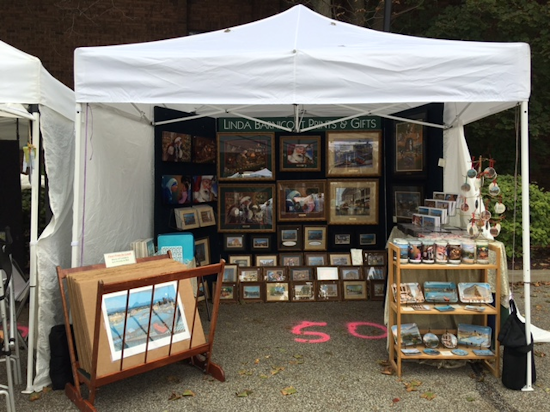 First and foremost, I want to thank you all for your prayers for my husband Tom. We were a little concerned last weekend and into the beginning of this week, but eventually he turned the corner and is recovering nicely.
Now that he's finally starting to feel better, I've picked up my paintbrush again to work on the next painting in my "Jolly Old Elf" series – "Santa's Joyride" – and I'd love to share it with you. Ever wonder how Santa gets around after he parks the sleigh for the season? Here's the final sketch before the painting began…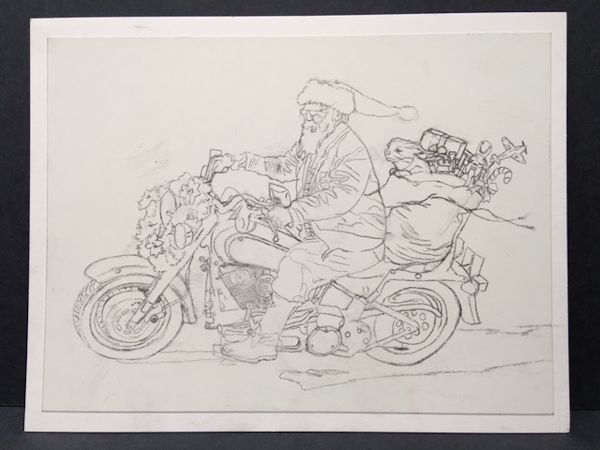 If all goes well, next week I'll be able to share the next stage of the pastel painting with you as it develops. I really am loving the process of creating this piece… Not only is it very therapeutic, but the image of Santa riding on the back of a vintage Harley makes me smile!
Last weekend was one of those glorious fall weekends where it's a joy just to be out and about. I spent my weekend outdoors, meeting and greeting at the 2016 Mt. Lebanon Artist's Market. Lots of other people were out and about as well and visiting the Market, so I met many great old and new friends and sold a ton of my artwork. I also picked up a pair of very warm handmade mittens from a craftsperson – they'll definitely come in handy for the Market Square Holiday Market this coming season! You can't be too prepared for winter weather, especially when you spend the entire month before Christmas outdoors. And I'm one of those people who's always cold anyway!
Where in the world will I be this weekend? On Saturday, October 1st, I'll be at the 27th Annual Arts & Crafts Show at St. Thomas More Church (126 Fort Couch Rd., just across from South Hills Village in Bethel Park) from 9 a.m. to 3 p.m. This show is an indoor event with 70 vendors, a Chinese Auction, and plenty of food, including homemade soups. It's a great way to spend the day! CLICK HERE to view my Calendar of Events and find out more about this and other upcoming events.
I will have some of my larger paintings at the show and all of my giftware, including my 2016 Christmas cards and my new Wendell August Forge Santa ornaments.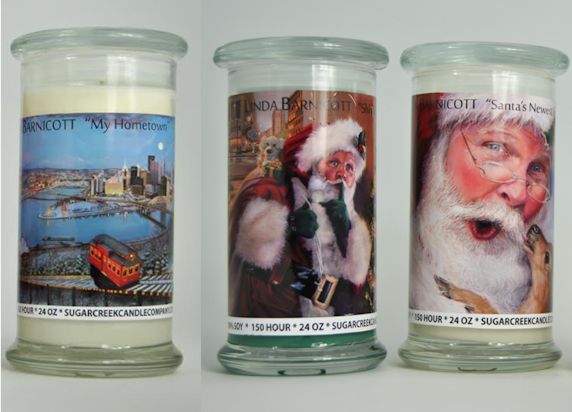 I'm also featuring my complete line of candles, including the latest one based on my painting "The Heart of a Saint," honoring the life and work of Mother Teresa of Calcutta.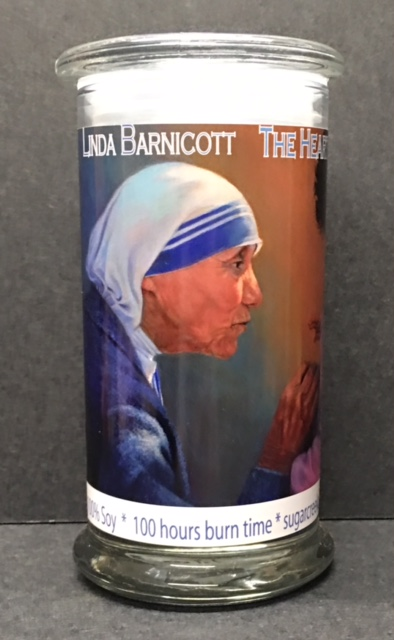 These slow-burning, scented soy candles are a lovely addition to any home. When the candle is burned to completion, the glass vessel and printed image are dishwasher safe and can easily be repurposed. For example, I bought some battery-operated fairy lights and placed them inside one of the jars, and they illuminated the image beautifully.
Can't make it out to Bethel Park on Saturday? The Christmas cards are now available on my website, as are the Mother Teresa candles (and of course, the rest of my art and giftware catalog). You can check them out and order online. CLICK HERE to begin your shopping!
Hope to see you at the show!
Make sure you are the first to know about all of my news, appearances and any "special deals" I am offering to my subscribers, by taking the time to sign up for my weekly newsletters now. CLICK HERE to sign up. You will also receive a FREE slideshow showing the step-by-step development of my painting, "Celebrating Time and Tradition at Macy's".