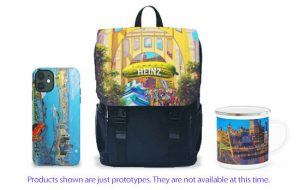 I hope you and your families are healthy and enjoying the recent Spring weather and getting outside a little more as the temperatures warm up.
I'm writing you today with a special request – I need your help to create my new art products line for the coming year.
Due to the pandemic and the tough economy in 2020, I'm sorry to say that some of my supplier partners didn't make it. For that reason, some of my popular items are no longer available. But while it's sad that this has happened, I'm looking at this setback as an opportunity to explore some new product ideas.
And that's where you come in!
Over the years, your purchasing choices and feedback have helped guide me in these decisions, and I thank you for that.  Now I'm directly requesting your input on which products I will pursue and develop in the future.
You can help me out by taking a brief five-question survey about the kinds of items featuring my artwork that you might like to purchase. I hope you'll take five minutes to provide your personal insights to help me reset my product offerings.
Thank you in advance for your encouragement and support. Artists really need and treasure that kind of feedback — your "Painter of Memories" really appreciates it!
As my way of saying thanks, you'll receive 10% off any item on my website (except candles) for completing this short survey. A code will be sent to you by email after your survey is submitted.
Just click here:  https://www.surveymonkey.com/r/HZJN6CN
Happy Spring!